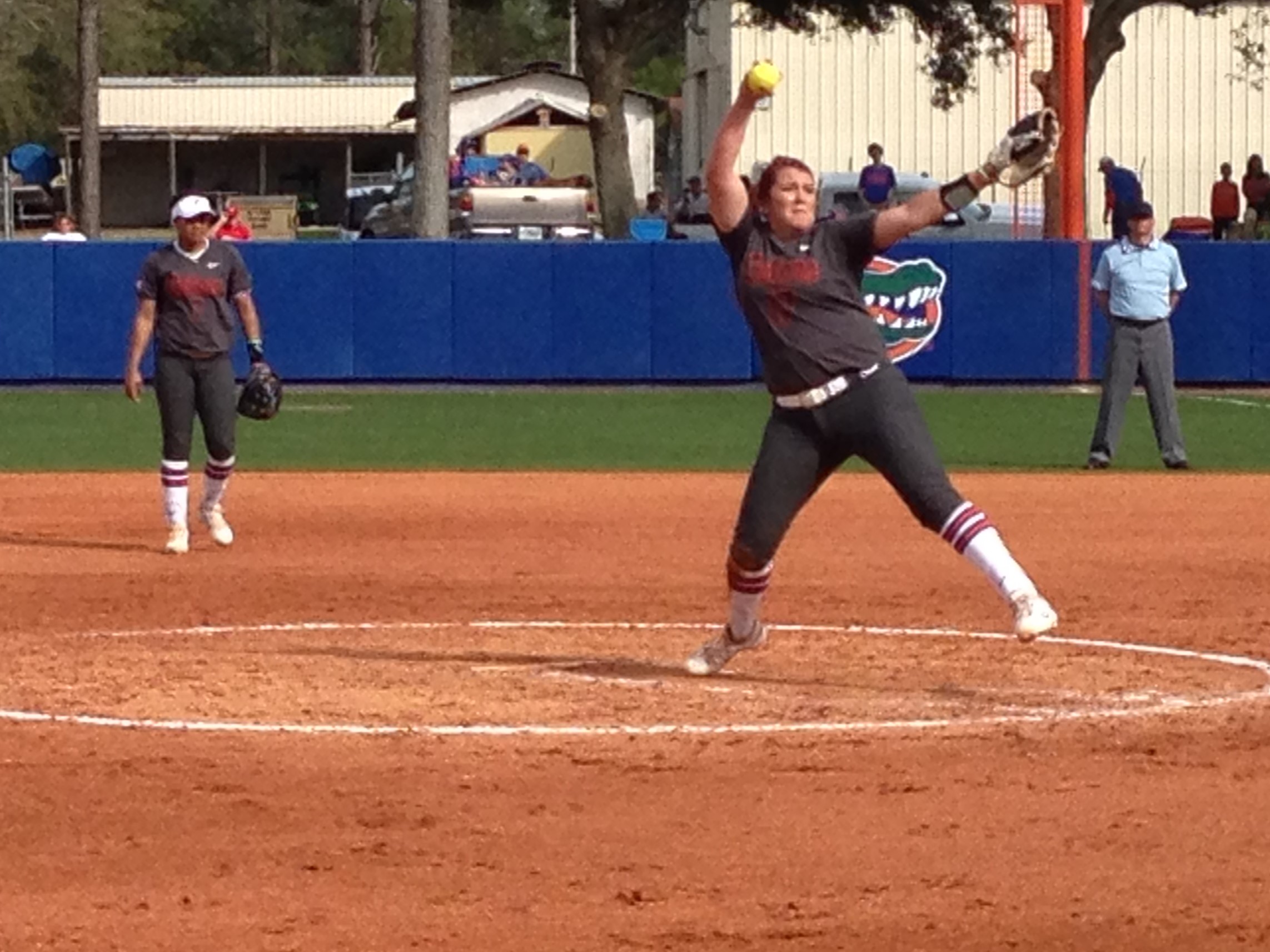 Pitcher Lauren Haeger in the middle of her windup against Kansas.
Two huge games from senior Lauren Haeger helped the Florida Gator softball team capture two more wins on the year to improve its perfect record to 14-0. Florida beat Illinois State in the first game by score of 4-1 and Kansas in the second game 7-1. Haeger finished the day with two home runs, nine runs batted in, six innings pitched, and nine strikeouts.
Freshman pitcher Aleshia Ocasio was impressive against Illinois State. She recorded her third complete game in just as many starts, only allowing one hit. That one hit though was a home run.
The Gators went into the bottom of the fifth down 1-0. Then, Lauren Haeger drilled a home run over the fence to give the Gators the lead. Senior Bailey Castro followed her with another home run, giving the Gators a 4-1 advantage.
This game marked the first time Aleshia Ocasio was in the batting order along with being the starting pitcher. Florida coach Tim Walton was content with her efforts in the batter's box.
"Obviously she went out there and swung the bat pretty nice today. And she's left-handed. There's a lot of nice things that can come out of that."
As for the second game, it was the Lauren Haeger show. She did allow her first earned run of the year, but that did not matter. As well as throwing six strong innings with nine strikeouts, Haeger drove in six runs off a three-run home run and a bases clearing double.
Haeger declared after the game that driving in runs is her number one priority.
"A lot of RBIs, that's really all I care about. Whether I hit a home run or a double in the gap or just hitting with runners in scoring position, it is usually my main goal."
Walton believes Haeger is in the discussion for best player in the country.
"You can argue that certainly she is one of the best players in the country with what she brings to the game and what she can do to change a game."
The Gators will be back in action today to complete the University of Florida Aquafina Invitational. They will be playing in another doubleheader, facing Mercer in both games. First pitch for the first game will approximately be at noon. The second game will be 30 minutes after the completion of the first game.
For full audio clips of the quotes above and more, click below:
Haeger was fine with Delanie Gourley finishing the game
Haeger's priority is to drive in runs
Ocasio felt good being in the lineup
Ocasio on what Lauren Haeger has meant to her
Walton's thoughts on Lauren Haeger
Walton about putting Aleshia Ocasio in the batting lineup
Walton shares what is going to make them successful moving forward