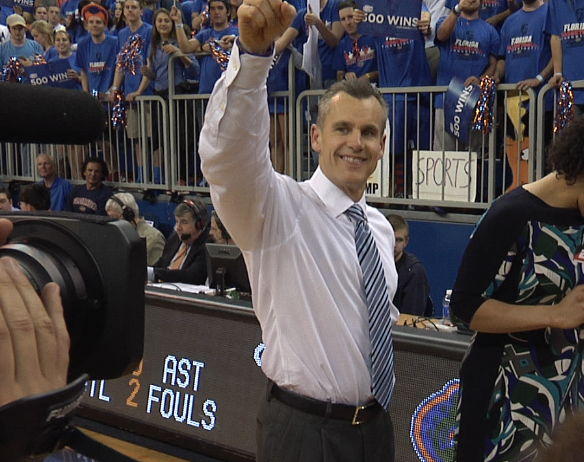 Minutes after the Gators cruised to a 66-49 win over Tennessee, the majority of the O'Connell Center crowd remained standing at their seats.
With a packed student section in front of him and his basketball team behind him, all eyes were on Florida head coach Billy Donovan as he recapped the win with Mick Hubert on the radio.
In a season marred with inconsistencies and unattainable expectations, Gator Nation finally had something to celebrate.
Donovan reached his 500th career coaching victory on Saturday night. He is only the second basketball coach in Division I history to join the 500 win club before the age of 50 behind legendary coach Bob Knight.
"I thought there was a great crowd tonight. Obviously our team has struggled this year and for the amount of people to come out like they did to watch our team play, I'm very appreciative," said Donovan. "To be honored like that at the end of the game was extremely touching and I'm very thankful for that."
The Gators improved their record to 14-15 on the season, 7-9 in conference play.
"I don't know if I can get to 501 right now," Donovan joked when asked about possibly reaching 1000 wins.
Junior forward Dorian Finney-Smith provided 20 points and 10 rebounds off the bench in his first game back from a team suspension. The first points he scored came from a one-handed flush from underneath the rim that let everyone in the building know he had returned.
"I thought he was really locked in and ready to play. I think he wanted to play well because of what had happened with him missing three games and being out of practice a little bit," Donovan said.
Eli Carter provided 11 points and six assists despite dealing with strep throat in the days leading up to the game. It was his highest assist total since transferring from Rutgers.
Kasey Hill chipped in seven points and eight assists. The Gators had a season-high 21 assists collectively.
Tennessee was led by Armani Moore who scored 18 points on 8-of-9 shooting from the floor. Josh Richardson, the Volunteers' season-leading scorer, scored all seven of his points in the second-half.
The Gators had their best first-half in recent memory. Florida hit their first two three-pointers of the game courtesy of Carter and freshman Chris Chiozza. The shooting proved to be contagious as the team would finish the first half shooting 7-of-11 from behind the arc. The 40 points in the first half was their highest total in a conference game this year.
Florida fell back to earth in the second half, shooting 2-of-11 from three-point range. The Gators would finish shooting 24-of-42 (57.1%) from the field.
Up next, Donovan will start the journey for 500 more wins as the Gators host Texas A&M (20-8, 11-5) on Tuesday. You can listen to coverage of the game on Country 103.7 the Gator starting at 8:25 p.m.
To listen to audio from the story, click below:
Donovan appreciates being honored by the home crowd
Donovan on possibly getting 1000 wins