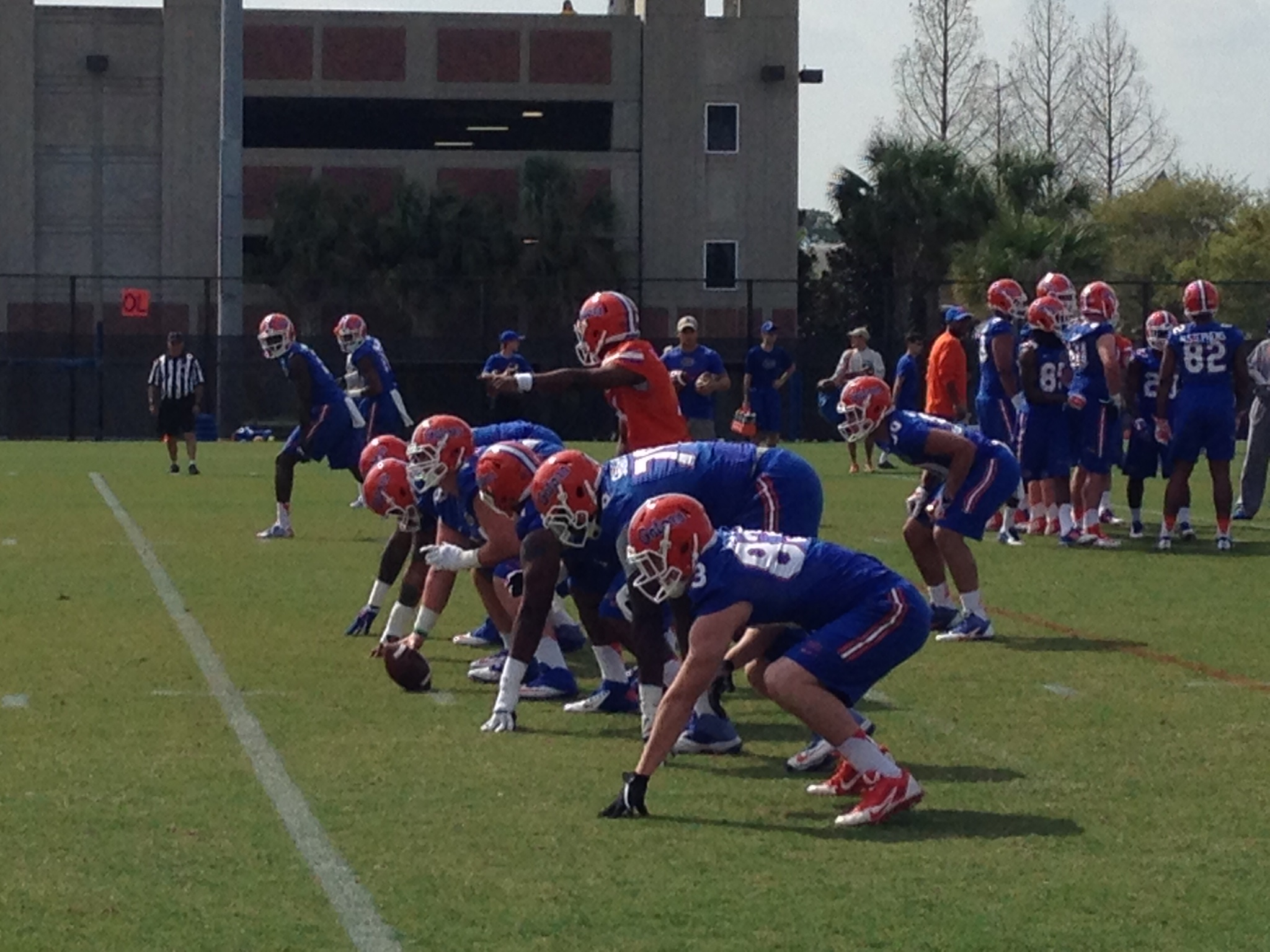 Treon Harris taking first snap of practice on Wednesday.
For the first time in recent memory, quarterback Jeff Driskel is not on the Florida football team, as the senior transferred away.  So, Florida will have a new starting quarterback in 2015.  There are four gunslingers on the Florida roster, but the battle for the starting job seems to be between two players; sophomore Treon Harris and redshirt freshman Will Grier.
Harris does have the slight edge in terms of in-game experience. After an injury to Driskel in the middle of last year, Harris stepped in and won games. Out of six starts, he led the Gators to four victories. But that was under head coach Will Muschamp. Like every quarterback that has played the game, adjusting to new schemes and formations is a part of the process of playing under a new coach. Harris declares that his relationship with new head coach Jim McElwain is solid.
"We came in and we all talked and communicated. Everybody seemed liked they got along, but we just had to build that relationship."
Will Grier, who was also a Muschamp recruit, has not played a down in the collegiate level. According to Grier, being redshirted his freshman year was planned but he was asked to be prepared every week. After a back injury, coaches ultimately decided to keep the redshirt for the entire year. At the end of the day, Grier viewed it as a blessing.
"Overall, it was a blessing. Just to get a year to work on my body, work on the mental side of the game and still get to travel…I think it helped me overall."
Friday will mark the first practice in pads this spring for the Florida Gators. It will also be the first time being in pads under coach McElwain. Quarterback is not the only position battle on this roster, and time will tell which ones will be the closest. At this point in the spring, coach McElwain simply wants his team to learn after each day.
"The key right now is to keep loading the wagon. Come back, and reteach it again…Overall, still like the tempo, still like the way the guys are competing against each other and helping each other get better. That's one of the things we are striving for."
For full audio clips of quotes above and more, click below:
Grier's take on being redshirted
Harris getting along with coaches since the beginning
Grier on what it will take to win the starting role
Harris sharing what coach McElwain has taught him so far
McElwain's keys right now at this point of spring
McElwain on his team helping themselves by going 100% everyday