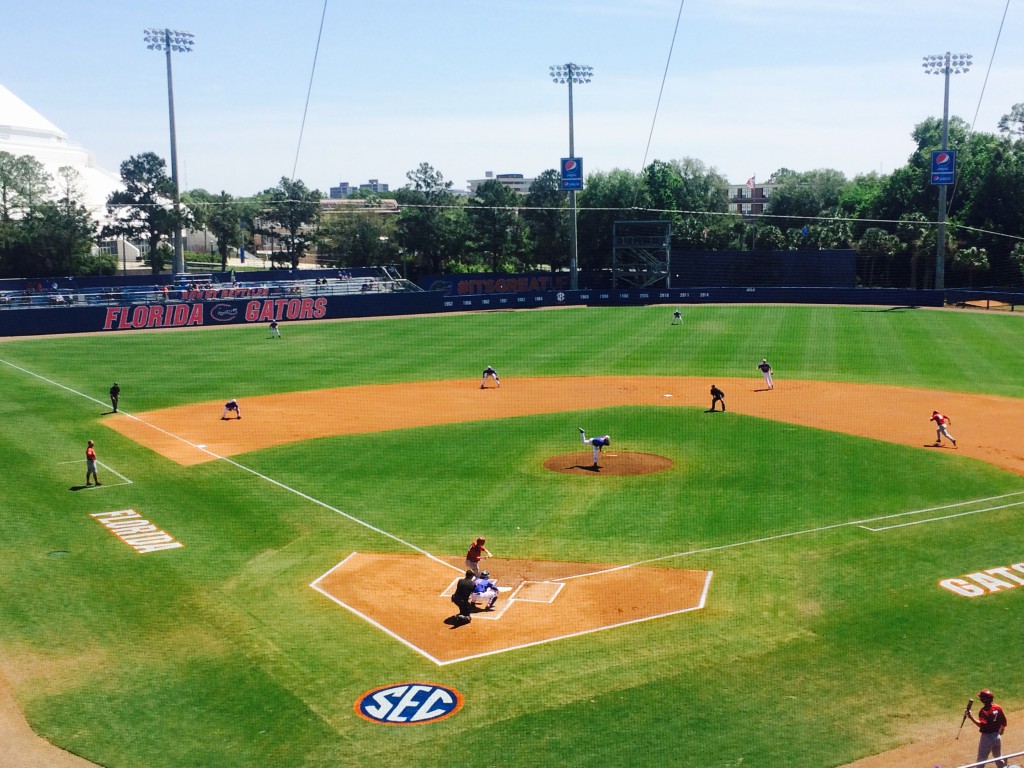 The fifth ranked Florida Gator baseball team (23-6, 5-4 SEC) picked up a 7-4 victory over the Alabama Crimson Tide (14-12, 4-5 SEC) on Saturday to pick up a 2-1 series victory.
The Gators dropped the first game of the series, but found offensive and pitching success in the final two games of the series.
Sophomore right-hander Dane Dunning took the mound for the Gators Saturday, going 5 2/3 innings, allowing four runs while picking up four strikeouts. Although he left the game earlier than he may have liked, Florida head coach Kevin O'Sullivan was pleased with his starter's performance.
"I thought Dane threw the ball great, other than one pitch," O'Sullivan said. "It seems like every time he goes out there, he's just getting a little bit better and a little bit better and a little bit better."
Dunning was replaced by towering left-hander A.J. Puk, who was solid in his 3 1/3 innings, giving up one hit while striking out five to pick up the win. O'Sullivan recently took him out of the starting rotation, but he talked highly of Puk.
"He's talented. It's really simple. Just fill up the strike zone. He's really talented, and for us to get to where we want to get to, A.J. Puk should be and needs to be one of our starters."
Although Puk pitched well out of the pen, he would rather start the game on the mound.
"Getting pulled from the rotation is not my preferred thing. I didn't pitch well last week, and I just wanted to come out this weekend, prove myself again, and hopefully he'll give me another shot, starting or coming out of the pen, whichever one will help out the team," Puk said.
As solid as the pitching was, the contributions of the offense, specifically first basemen Jeremy Vasquez and center fielder Buddy Reed, keyed the Gator victory.
The Gators held a 3-1 lead until the Crimson Tide stormed ahead with three runs in the sixth inning to take a 4-3 lead. Vasquez responded with a solo home run in the seventh inning to tie it up, and he talked about picking up his second homer in as many games.
"That one felt a lot better than my first home run," Vasquez said about Saturday's big fly. "It was just a fastball inside, and I barreled it up. The wind was blowing out too. It was a good swing."
After losing in extras in Game 1 of the Friday doubleheader, the Gators wanted to ensure they secured a regulation win in another close game in the series, and center fielder Buddy Reed helped that happen with a two-run single in the eighth inning.
"Great job for those guys to get on base, and then they walked Toby, (Josh Tobias) and glory to God," Reed said about his clutch hit. "It was a good pitcher, and I just wanted to put the ball in play and help my team in any way possible, and I did."
The Gators will look to carry the momentum they gained in the final two games against Alabama into their contest with bitter rival Florida State (20-7, 7-3 ACC) when they meet in Jacksonville on Tuesday.
First pitch is set for 6:00 p.m.
For sound from Kevin O'Sullivan and the players, click below.
O'Sullivan on his starting rotation
O'Sullivan on Reed's big at-bat
O'Sullivan on the importance of the series
Vasquez on his game-tying home run
Vasquez on what the freshmen have learned
Reed on his go-ahead hit in the 8th