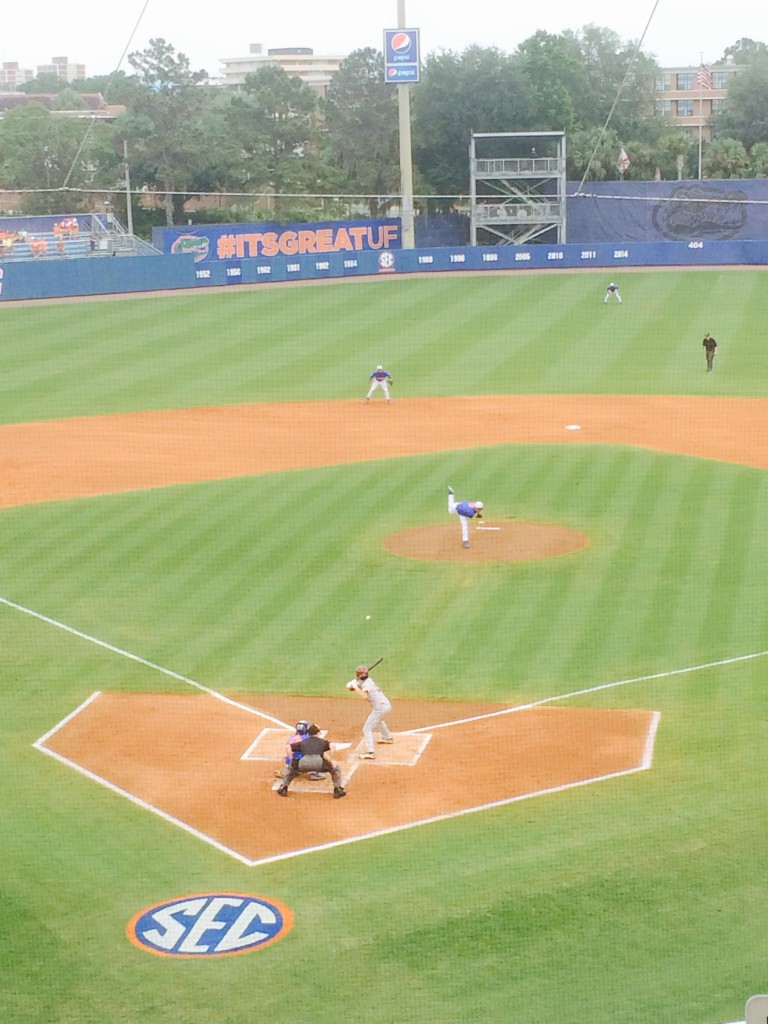 The 10th-ranked Florida Gator baseball team continues an offensive explosion (27-9, 8-6 SEC) by defeating the 21st-ranked South Carolina Gamecocks (23-13, 6-8 SEC) 12-5 on Saturday to take a 2-0 series lead.
The Gators were powered by shortstop Richie Martin, who finished the day just a double shy of the cycle to go along with his career-high six RBI. But he didn't just shine at the plate.
Martin also made a diving stop to start a double play in the eighth inning, which head coach Kevin O'Sullivan admitted had Martin not gotten to the ball "things could have got a little interesting."
Martin talked about his performance.
"I think I try to hold them [offense and defense] equally," Martin said. "I try to put my defense first, and if offense isn't going to well, I just go out and play defense and vice versa. But I try to keep them equal."
Dane Dunning got the start for the Gators on Saturday, and other than one first inning pitch to Gamecock first baseman Kyle Martin that resulted in a two run homer, he looked solid, matching his career high of five strikeouts in just four innings. A.J. Puk came on in relief and was strong for the Gators, striking out four and giving up two runs in three innings.
"I thought Puk was solid. I thought he was sharp," said Kevin O'Sullivan. "He threw his breaking ball for strikes more, he threw some quality changeups, and he didn't just have to rely on his fastball when he was behind in the count. I thought he pitched good."
Although Dunning, Puk and Kirby Snead gave up just five combined runs and 11 hits, four of those hits were recorded by the aforementioned Kyle Martin, who finished the day 4 for 4 with a walk, with those four hits completing the cycle.
The Gators will look to find a way to contain both Martin and the rest of the South Carolina offense today when they go for the series sweep against the Gamecocks. O'Sullivan has yet to name a starter for the game but said it will most likely be a right-hander and, he is leaning toward starting Alex Faedo.
First pitch is set for 12:00 p.m.
For sound from the game, click below.
O'Sullivan on the early offense
O'Sullivan on South Carolina starting pitcher Jack Wynkoop
O'Sullivan on the offensive struggles against Missouri
O'Sullivan on shortstop Richie Martin
O'Sullivan on starter Dane Dunning
O'Sullivan on pitcher A.J. Puk
O'Sullivan on Puk coming out of the pen
O'Sullivan on pitcher Alex Faedo
Martin on his offense and defense
Martin on if he was thinking about the cycle
Martin on the offensive improvement over the past 3 games
Martin on potentially getting the series sweep
Tobias on the offensive success