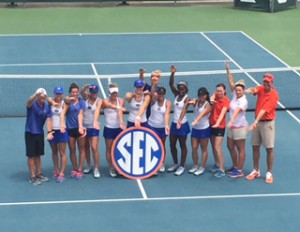 The Florida women's tennis team wins the SEC regular season championship after beating Tennessee 4-0 Sunday. The senior-less team spent their season finale celebrating the title win and looking forward to the upcoming SEC tournament.
"I'm just really proud of our players, really," head coach Roland Thornqvist says of his team, "It's been a long season, and a lot of close tough matches, a lot of tough and long and close sets, and I think our players have been outstanding in pressure moments all season long."
The match started out with difficult doubles play. The duo of Spencer Liang and Peggy Porter got an 8-4 victory on Court 3, while the other two courts were trailing. Brooke Austin and Kourtney Keegan forced a tiebreak in their match, but before they could capitalize on their 5-3 lead, Josie Kuhlman and Belinda Woolcock defeated their opponent 8-6, taking the doubles point for Florida.
"We do need to continue to improve on some things," Thornqvist says, "but overall I think we communicated well and we have a good idea of what we're trying to do when we play doubles now and that's very important going into the post season."
When the Gators got to singles play, the momentum picked up in their favor. Florida made quick work of Tennessee, sweeping three singles matches after an hour of play. Brooke Austin was the first to win, taking both sets 6-1. She had taken an early lead, but struggled to finish the game. After coming back to win the next one, she powered forward dropping only one more game.
"I was so mad I lost that game that it sort of motivated me for pretty much the next set and a half," Austin says about her match, "and then after that once I got up 6-1, 4-1, I just sort of tried to stay focused and close it out."
Once Austin had her win, it was a race to the finish for the remaining singles matches. Earning the second point just a minute later, Kourtney Keegan defeated her opponent 6-3, 6-0. Belinda Woolcock followed after one more minute sweeping her match 6-1, 6-0. This was Woolcock's first singles win since Missouri on March 15th.
"She had a great forehand and her backhand, sometimes she'd mix it up and slice sometimes and then she would hit over with top-spin," Woolcock says about her fight for the match point, "I really just had to keep my cool and stick to trying to hit it to her backhand. I think I did a good job at the end just by focusing on my target and staying aggressive."
The Gators have claimed the SEC regular season title 28 times out of the program's 35 year history. This is the 10th time head coach Roland Thornqvist has led his team to the title in his 14 years coaching at Florida.
The postseason will get started at the SEC Tournament in Columbia, South Carolina. The Gators will start their tournament action on Wednesday, April 15th.
Listen here for more from Coach Thornqvist, Belinda Woolcock, and Brooke Austin:
Thornqvist talks about his team and their performance this season
Thornqvist talks about the doubles play
Austin talks about her singles match