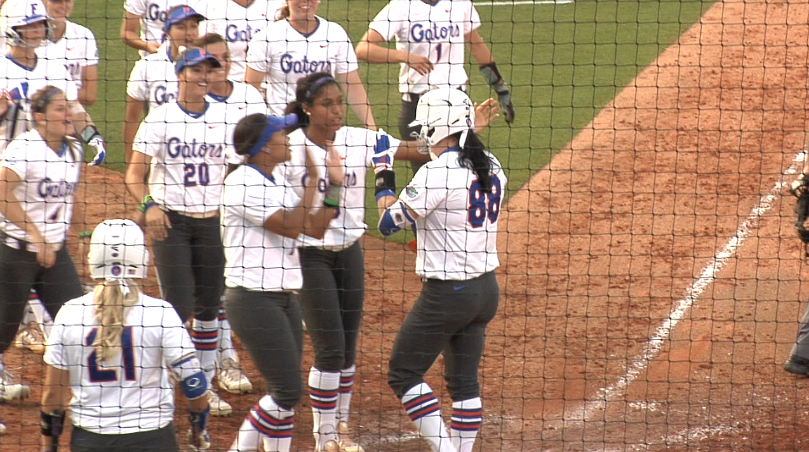 Senior Bailey Castro celebrating her solo home run with teammates
Florida Softball Postgame Recap
The top ranked Florida Gator softball team entered this weekend with a 12-game win streak, eight consecutive in the SEC. They would extend both of those streaks with a Game 1 victory against the 25th ranked Texas A&M Aggies, 7-3.  Junior second baseman Kelsey Stewart wants to focus on the little battles as the regular season comes to a close.
"I don't really think we see it as a streak. I think it's one game at a time and really just working through our at-bats, winning every at-bat, winning every pitch and just doing the little things for postseason."
Stewart paved the way for the Gators offensively. She went 4 for 4, scoring two runs and adding an RBI of her own. She would improve her batting average to a whopping .449 with an on-base percentage of .503. After the game, she discussed the adjustments she made in practice.
"I did some drills. Coach worked on slowing my feet down and focusing on the little things. I wasn't trying to do too much and I was trying to make sure my hands were loaded and just trying to simplify my swing."
Bailey Castro would add an insurance run with a home run in the fifth inning.
In the circle, pitcher Lauren Haeger did not have her best game. The senior allowed three earned runs off six hits, including a two-run homer from A&M's Tori Vidales. She would complete the game for her 22nd win on the season without a loss, tying Stephanie Brombacher for the Gator record for the best start of the season for a pitcher. Haeger is relieved all her hard work entering the season is paying off.
"It's always awesome when you put in so much work and then it pays off on the field. That's just how we are here. We work hard. Everyone can say that, but I feel like we work hard."
First pitch of Game 2 will be Saturday at 1 p.m. A pregame ceremony will commemorate the six seniors on roster; Bailey Castro, Jessica Damico, Lauren Haeger, Briana Little, Francesca Martinez, and Kathlyn Medina.
Lauren Haeger shared what she wants to take away from this weekend.
"Just to look back on the all the memories that I have had…It's been a great time. I don't get as mad as I used to when I get out just because I'm trying to take it all in, not waste the moments with my best friends. That's really emotional, but it's been the best four years of my life."
For full audio clips of quotes above and more, click below:
Haeger glad to see her hard work pay off
Haeger on what she wants to take away from senior weekend
Stewart made improvements to her plate approach
Stewart wanting the team to win the everyday battles
Walton didn't think Lauren Haeger was sharp
Walton always impressed when Kelsey Stewart is playing
Walton's take on Rhonda Faehn's departure