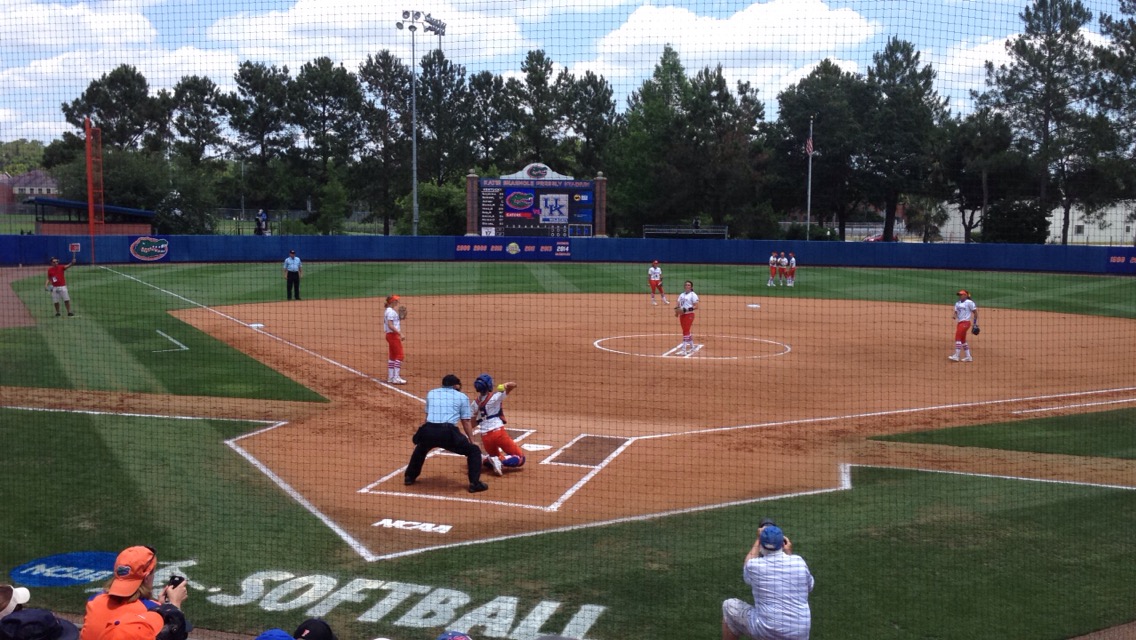 The Gators warm up to play before the first inning
The Florida Gator softball team dominated Game 1 of the NCAA Super Regional against the Kentucky Wildcats, 7-0 on Saturday. The Gators just need to win one game on Sunday to punch their tickets to Oklahoma City for the Women's College World Series.
Pitcher Lauren Haeger had one of her most dominant starts of the entire season. The Gator senior was perfect through five innings until Kara Howard smacked a single to left field in the top of the sixth. Griffin Joiner would tally another hit against Haeger in the seventh and that was all Kentucky would get. Nobody got on base via walk or hit-by-pitch and six hitters were punched out.
The Gator offense produced all of their runs in the first and sixth inning. Kentucky pitcher Kelsey Nunley loaded the bases by allowing two singles to Kelsey Stewart and Nicole DeWitt and walking Kirsti Merritt. Taylore Fuller would be hit by a pitch and that scored Stewart. Then, freshman Kayli Kvistad stroked a double to right field that cleared the bases that gave the Gators the early 4-0 lead.
Lauren Haeger would pad the lead with a solo shot in the sixth. Kirsti Merritt would add on two more runs with a homer of her own that was a screamer down the left field line. All in all, the Gators have a 10-0 run advantage over the three games that Lauren Haeger and Kelsey Nunley faced each other this season. As for the 2015 NCAA Tournament, the Gator pitchers have not allowed a single run stretching over 29 innings.
Game 2 on Sunday gets underway at noon. If necessary, first pitch of Game 3 will be at 3 p.m. The Wildcats needs to win both games if they want to advance while the Gators need just one more.
For audio clips from Lauren Haeger, click below:
Haeger wanted Hannah Rogers' job entering the year
Haeger talks about her plate approach