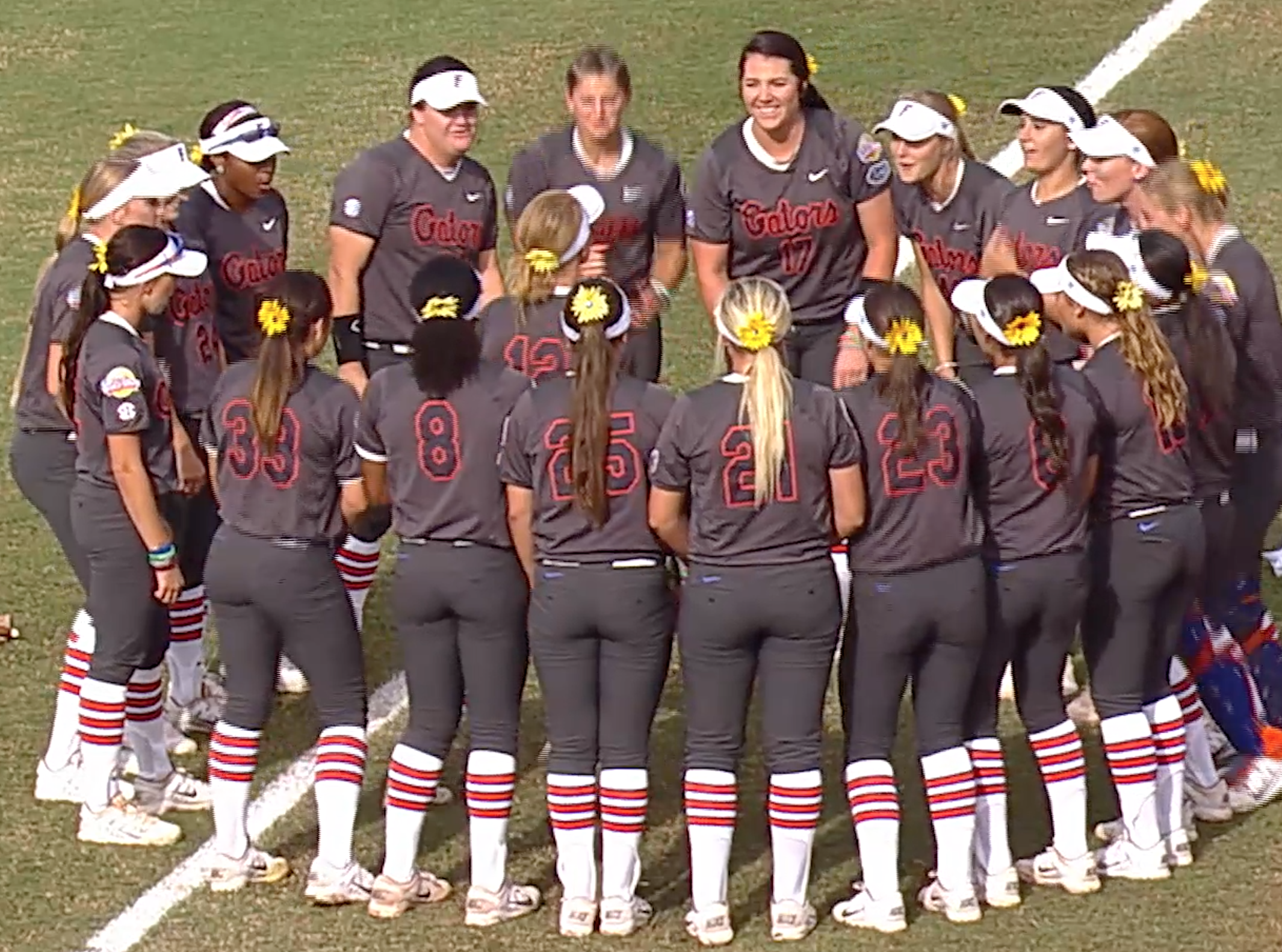 Taylore Fuller pumping up her teammates before the game
The LSU Tigers torched the Florida Gator softball team in early March for the series win in Gainesville. The Gators got them when it truly counted however in the Women's College World Series on Friday with a 4-0 win. Freshman Nicole DeWitt admitted after the game that revenge was on the minds of the Gators.
"We just wanted to come out, play them, beat them, because we did lose to them twice in the first week of the season and we just had that revenge on them."
When LSU came to Katie Seashole Pressly Stadium at the beginning of the SEC schedule, the Bayou Bengals posted 27 runs combined against all three Florida pitchers. Senior Lauren Haeger came out on Friday and continued her dominant postseason run. With the complete game shutout, it marks her sixth consecutive game that she has started, completed and won. Haeger eluded to DeWitt's point that against LSU, there was some extra motivation.
"Of course we want to beat everyone we play. But again, us losing to them obviously gave us a little more fire but gave us a little bit more experience against them. So yeah, they're a good team. We really wanted to beat them."
Haeger unsurprisingly got the Florida offense started. With the score all tied up at zero and Nicole DeWitt on base, the National Player of the Year took it deep to left field for the two run bomb. The homer was her 70th of her career and already with 70 career wins in the circle, she created her own 70-70 club in softball. To take it even further, she and Babe Ruth are the only players in collegiate and professional baseball or softball to have such career numbers, according to ESPN Stats and Info. Haeger commented about being in the same conversation as Ruth.
"It's hard because he's got a lot more (home runs) than me and he's Babe Ruth. But again if we're the only two people to do it, that's like amazing, and I'm just proud of myself, I guess. I means it's really cool and something that I'll remember forever."
Haeger wasn't the only Gator to go yard. The freshman DeWitt just barely got the ball over the fence in the sixth inning to extend the lead to 3-0. It was just her second home run of the season. DeWitt said after the game it was the biggest moment of her collegiate career.
"I was so excited, I just jumped and I was just clapping. It was so cool. And then looking at my team, they're just waiting for me at home plate. It was just the greatest feeling I ever had."
With the solo shot, Florida has gotten a home run from a freshman in back-to-back games. Kayli Kvistad hit a two run homer in the game against Tennessee. Head coach Tim Walton loves getting contributions from the younger players.
"It's a proud moment. I think again just watching the young kids get up there and gain confidence and keep gaining it and gaining it, and I think Kayli talked about it yesterday, just learning from our players that have been there, done that. And we're a program to keep building and keep getting better and we need those young kids to set the tone and to be the leaders maybe potentially next year."
Kirsti Merritt added an insurance run in the seventh by scoring off a throwing error from LSU catcher Kellsi Kloss.
The Orange and Blue now have to wait until noon Sunday to take the field again. Tennessee and Auburn will face off Saturday and the winner will play UCLA later that night. Whoever wins that game will face the Gators.
For full audio clips of quotes above, click below:
DeWitt comments on the emotional high she got from the home run
Walton on the young freshmen stepping up in the WCWS
Haeger's reaction to the Ruth comparison
Haeger was motivated to beat LSU