Another successful start from Andrew Jacob or "A. J." Puk helped lead the Florida baseball team to an 8-2 win over USF Saturday in an NCAA Regional game. Florida is now one win away from advancing to a Super Regional, which it would host if it gets to that point. Puk was dominant in his start and USF coach Mark Kingston agreed. "When you're left-handed and throw 97 you always have a chance to win."
Puk threw seven scoreless innings, striking out eight along the way and he now has an impressive 48 strikeouts in his last five starts. In his last three outings only two runners have reached home plate. Puk now owns nine wins, a team high. After the game Puk said things just went right. "I found rhythm and everything else fell in to place," he said.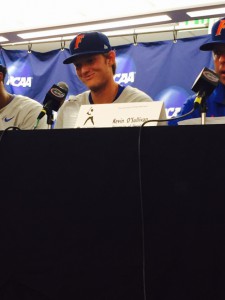 Nothing fell in to place offensively for USF as only one the last 19 batters Puk faced reached base. Florida finally warmed up at the plate in the third inning when Buddy Reed golfed a low fastball over the right field fence to give the Gators a 2-0 advantage. Kevin O'Sullivan said postgame that he wasn't expecting anyone to go yard with the wind conditions that were at McKethan Stadium. Harrison Bader also knocked a bomb in the game, a two run dinger in the fourth to spread out the lead. Bader went 2 for-5 in the game. J.J. Schwarz continued his postseason success going 2 for-4 with a run scored. Freshman Mike Rivera did not play after suffering a minor injury Friday night. O'Sullivan says that he should be okay and expects him to return soon. The Gators added on a few late insurance runs before Kirby Snead gave up USF's only runs in the eighth and ninth innings and Taylor Lewis came in with three outs left in the game to close things out. Kevin O'Sullivan likes the way his team is playing. "Multiple guys had multiple-hit nights. I thought that Buddy's home run was really big for us to get on the board, and obviously, Bader's home run, I think we had two two-run homers. It was an all-around great game." O'Sullivan has not named a starter for Sunday's game at 4 pm. He said he has even considered starting senior reliever Bobby Poyner. The Gators will face the winner of USF and FAU's elimination game at 1 pm on Sunday.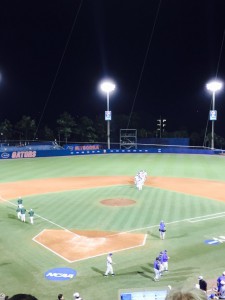 Post game sound from the game: