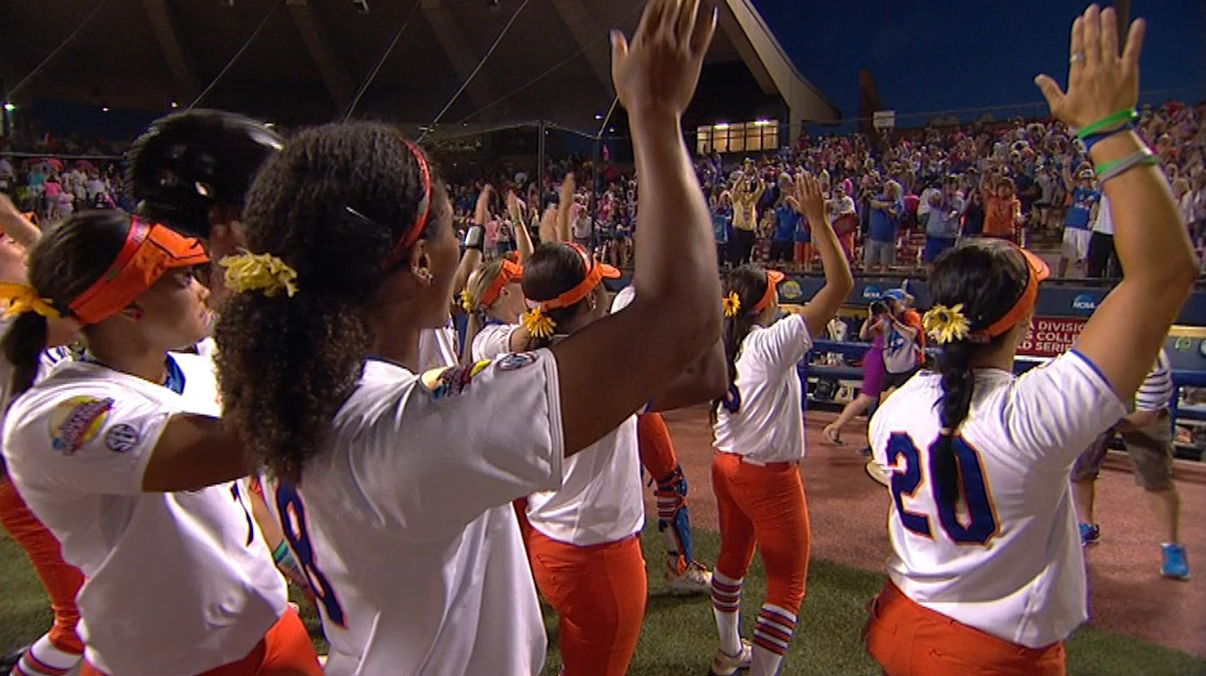 The Florida Gators celebrate the win with fans in the stands
The distance from third base to home plate is 60 feet in college softball.
That's how close the Michigan Wolverines were to tying the game up at three in the top of the seventh inning in their game last night against Florida in the College World Series.  An indecision from Sierra Romero, a National Player of the Year finalist, at third base was the possible difference between a Gator victory and what could have been another extra inning game for Florida as the Gators beat Michigan 3-2 to move to within one win of back to back national titles.
Florida coach Tim Walton was unsure of why Romero stayed at third.
"After Katie touched the bag and spun, I thought she was going again. But it looked as though Katie was coming towards 4 (home). So I think she then saw that. That's what I saw from where I was at in the dugout."
Florida led 3-0 in the seventh inning when Delanie Gourley relieved Gator starting pitcher Aleshia Ocasio who pitched well for Florida.   Gourley walked the first batter she faced, Romero, and gave up a single that put runners on first and third.
That's when a sharp ground ball was hit to Katie Medina at short; Romero hesitated at third base and did not run as Florida got a force out at second base.   A strikeout and ground out later, and Florida came away with the win.
Even though she wasn't in the circle, Lauren Haeger managed to contribute immensely to the Gator victory. The National Player of the Year got the scoring started in the bottom of the first with a two-run home run to left field. Just two innings later, she roped a pitch to right-center field and drove in Nicole DeWitt for the RBI double. Florida picked up the early 3-0 lead in just three innings. Haeger explained her team's early success against Michigan.
"I think we were just swinging against good pitches. We had a good plan. We watched video and we prepared as well as we needed to do."
The last time Aleshia Ocasio pitched in a live game was against FAMU in the NCAA Regional. With consideration to Lauren Haeger's 160-pitch game against Auburn, head coach Tim Walton gave the ball to Ocasio to start the first game of the World Series. The freshman pitcher was proven against Michigan, totaling 11 innings over two games in the regular season and she only allowed four hits. Ocasio said after the game, with the help of her teammates, she is always prepared.
"When I'm throwing my bullpens, going out there with a stand-in. So they're coming in there and helping me prepare for batters that are coming up in the lineup. Basically everyone contributes to me being mentally prepared."
Ocasio was stellar through five innings. She couldn't go an inning without allowing a base runner, but timely pitching and great defense guided her to pitching five scoreless innings. In the sixth however, Michigan was able to get two runs from a RBI single from Abby Ramirez. A decision needed to be made: keep Ocasio in, put in a tired Haeger, or bring in Delanie Gourley who hadn't pitched since May 8. Walton went with Gourley, and she felt confident coming in because of her experience in the World Series.
"I think having the experience from last year it really carried over to this year. There's a ton of people watching, and it just made it that much easier to know that I've been there before, and I could help my team in any way I could."
Game 2 of the College World Series is tonight at 8 p.m.
For full audio clips of quotes above and more, click below:
Walton recaps the win against Michigan
Walton on what has helped him in making his decisions
Gourley's take on the wild final inning
Haeger proud of Ocasio and Gourley