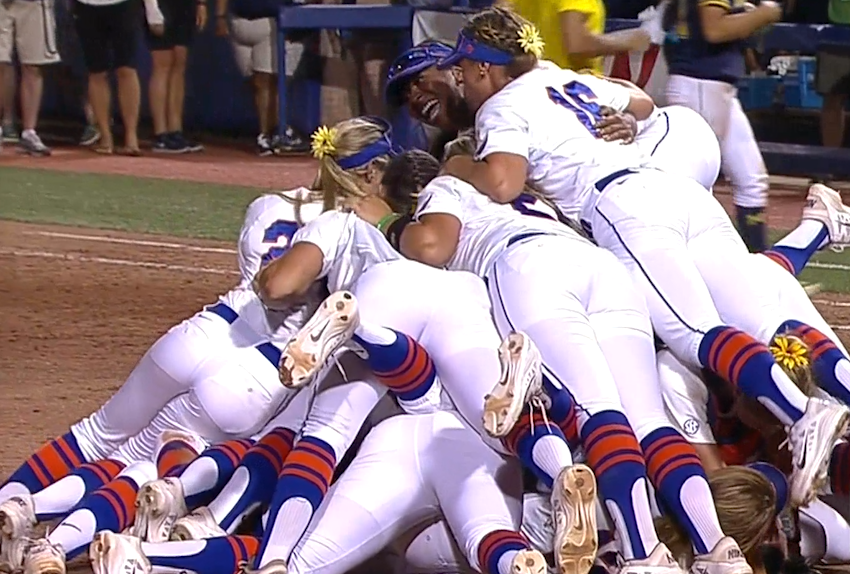 The Florida Gators form a dog-pile in the infield after the final out
The hardest thing to do in college softball is to repeat as national champions; only two schools in the history of the sport have done it before. With the best player in the country, an elite defense and timely contributions from the entire team, the Florida softball team becomes the third team in history to win back to back national titles with a 4-1 win over the Michigan Wolverines in the Women's College World Series. Gator coach Tim Walton explained how they sustained their success during the 2015 season.
"They all understand. I think the key to this creating your own moment is we've got 20 players on our team and each one has a role and each one brings value to the team. And if you can put yourself aside, your own selfish instincts, you want to play every game and support your teammates, good things happen for you."
Michigan certainly had the momentum heading into Game 3. Since the Women's College World Series Championship Series changed to the best of three format, the team that lost Game 1 but won Game 2 always went on to win the title. And the Wolverines started Haylie Wagner in the circle, who dominated the Gators late in Game 1 and held them scoreless in Game 2. Florida's Lauren Haeger said after the game that an attitude adjustment was needed.
"We realized this isn't going to be handed to us and we really needed to work hard. Michigan is a great team. And we just had a different attitude today. You could see it in our eyes. You could see it in each other, you can hear it in our conversations. We were a different team. We were who we are today."
Florida was aggressive right out of the gate. They scored three runs in the first inning with hits from Lauren Haeger and Taylor Schwarz. Kelsey Stewart drove in another run in the second and that was all the Gators needed to win. They actually got more hits in Game 2 when they scored no runs. But timely hitting, patient at-bats and hit-by-pitches by the opposing pitchers gave Florida an advantage. Walton shared the adjustments his offense made for Game 3.
"If you notice a lot of the hitters, they're choked up probably four, five inches on the bat. And I gave an interesting analogy I think today that one of the greatest home run hitters of all time, Barry Bonds, 32-inch bat, chokes up two or three inches. And he can hit just fine. Let's just go find a way to make contact and hit hard ground balls today."
Haeger once again showed why she was one of the best pitchers in the country this year. The senior, in her last game in a Gator uniform, pitched a complete game allowing just one run and five hits. Delanie Gourley spent a good amount of time in the bullpen but Walton stuck with Haeger and it got him his second national championship as the head coach at Florida. Walton compared Haeger's ability to learn new pitches to Hannah Rogers' situation last year.
"I think both of them developed a good off-speed pitch late in their career. I think that's the key. Hannah developed her off-speed pitch last year about three-quarters through the season. And Lauren decided to get hers about January…I think she bought in, changed her work ethic in the circle, in the bullpen more."
Four players from the Gator squad made the Women's College World Series All-Tournament Team: Lauren Haeger, Nicole DeWitt, Aubree Munro, and Kelsey Stewart. Haeger would go home with the Most Outstanding Player award. One player that Walton mentioned after the game that he thought was deserving was shortstop Kathlyn Medina.
"I really was hoping that whoever selected the all tournament team would recognize one of our most valuable players on our team, not only defensively but what she brings leadership wise and personality wise. Lauren Haeger gets all the recognition, but Katie Medina is one of the best shortstops in the country on one of the best teams in the country."
Something that was quite beneficial for the Gators this past season is they only lost two seniors from last year's winning team. This year they will be losing six; Bailey Castro, Jessica Damico, Lauren Haeger, Briana Little, Francesca Martinez, and Kathlyn Medina. But what has made the Florida Gators one of the most prestigious softball programs in the country is their ability to reload.
Kelsey Stewart, Kirsti Merritt and Aubree Munro are among key contributors that will be returning next year. They will be joined by a recruiting class of seven in Kelly Barnhill, Brooke Clemens, Amanda Lorenz, Lily Mann, Sophia Reynoso, Theresa Swertfager, and Alexandra Voss.
But for now, THIS Gator team can celebrate winning back to back national titles!
For full audio clips of quotes above, click below:
Walton on how his team sustained success
Haeger on using Game 2 as motivation
Walton on the offensive adjustments for Game 3
Walton compares Haeger and Rogers