The Florida baseball team is 27 outs away from returning to the College World Series and Omaha, Nebraska. In the words of FSU head coach Mike Martin, Friday night's edition of Florida vs. Florida State was "an old fashioned switching."  The Gators knocked off the Noles for the second time this year at McKethan Stadium by a final of 13-5. UF improved to 8 and 3 at home against Florida State since last time these two met in a Super Regional back in 2005.
Florida's Kevin O'Sullivan said the team is playing really well.
"I thought that from an offensive standpoint, we stayed within ourselves and had a really good approach against a really good pitcher. Obviously, scoring four in the first loosened us up a little bit. I thought we had good at bats the entire night. I thought Logan Shore was really good on the mound."
Florida came out of the gates early dropping four runs in the first inning. Offensively the Gators had all nine starters reach base including a three run, two RBI, and one home-run game from J.J. Schwarz.
With the lead Florida was able to exercise the bench allowing 13 different players to get an at-bat. In all nine different Gator ball players made it across home plate. The high scoring fueled the 10th largest crowd at McKethan Stadium in the history of the park.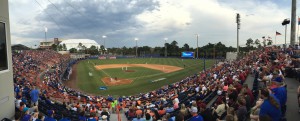 Kevin O'Sullivan says his team is focused and ready to keep this eight game win streak alive.
"There wasn't a whole lot of jumping around; I think they handled it great. I was impressed with how they were looking at me in the dugout after the game. We've talked about it the whole week about what's at stake here."
Florida ace Logan Shore dealt an impressive 5.2 innings allowing no runs to score. In four games during this NCAA Tournament UF's starting pitchers have allowed just one run.  A combined 12 pitchers between both teams saw action on the mound.
Both teams had 11 hits in the game but it was the starting pitching and four errors from FSU that made the difference. In two games at McKethan Stadium so far in 2015 the Seminoles have recorded nine errors. As a team they have 91 errors on the season.
A.J. Puk will get the call for Florida Saturday in hopes of closing things out against the Seminoles.  Puk has 48 strikeouts in his last five appearances. He will match up against Florida State's Mike Compton. The Gators have outscored opponents 72-14 since losing to Arkansas in the team's first game of the 2015 SEC Tournament. First pitch Saturday is at 5 with the game live on Country 103-7 The Gator.
Sound from Friday's game
-Logan Shore 1
-Logan Shore 2
-J.J. Schwarz
-Kevin O'Sullivan
-Kevin O'Sullivan
-Kevin O'Sullivan
-Kevin O'Sullivan
-Kevin O'Sullivan