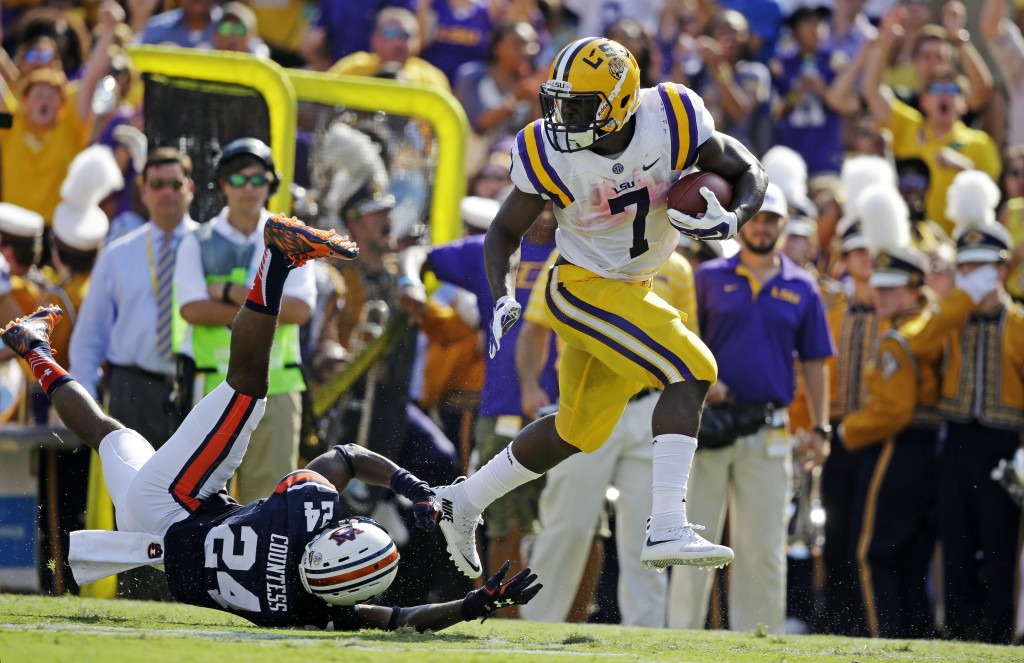 The nation's third ranked rushing offense matches up against the 12th ranked rushing defense this Saturday night at Death Valley as sixth ranked LSU hosts eighth ranked Florida.
The story lines for this game write themselves, as the Gators quarterback Will Grier is suspended for the season due to testing positive for a NCAA banned substance and Treon Harris gets his shot to be the starter.
The Heisman front runner Leonard Fournette going for his sixth straight 100-yard game for LSU but he goes up against the best defense the Tigers have faced this year.
Treon Harris is no stranger to starting in big games, as he was thrown in to the job at Tennessee last season and led Florida to a comeback win. He was suspended before this match up last season, and also missed the game against Tennessee earlier this year.
On the season Harris is 19 0f 27 with 269 yards and two touchdowns, with extended playing time in both the New Mexico State and East Carolina games.
Brandon Harris, LSU's first year starter, is coming off of his best game in college as he threw for 228 yards and two touchdowns, matching his season total in a win over South Carolina last week. Even with that game, Harris is only averaging 122 yards passing a game, the worst total in the SEC.
Neither Harris has started much; Treon has started one more game in college, six, than Brandon, five.
On the other hand, true sophomore Leonard Fournette is averaging 204 yards rushing per game with 12 TDs in five games. As if leading the nation in rushing yards, with 1,022, isn't enough, Fournette is tied for first in rushing touchdowns and rushing yards per game all on top of the fact that he has four carries of over 60 yards. In five games! LSU head coach Les Miles spoke about his star running back's improvement.
"I think he sees certain cuts better than he has [in the past], he's always run hard but I think he has gotten faster and I think he understands the offense more."
The Florida Gators are ranked in the top 10 for the first time since week one of 2013 against Toledo. This season has featured night games against New Mexico State, East Carolina, Kentucky, Ole Miss, Tennessee and now LSU.
"We knew the first part of our season was all going to be at night." Florida head coach Jim McElwain said, "So we did a bunch of things practice-wise where we went the acclamation to that time."
Playing at night in Death Valley is no easy feat for visiting teams, since 2009 LSU has only lost four games at home on Saturday nights. Three of them were to the #1 team in the nation, Florida in 2009, Alabama in 2012, and Mississippi State last season.
Saturday night, all the story lines will be addressed. Kickoff is set from Tiger Stadium at 7 PM on ESPN.