Last season, after finishing 16-17, the Florida men's basketball team missed the NCAA Tournament for the first time in 17 years and watched head coach Billy Donovan leave town for the NBA. The program is now led by former Louisiana Tech head coach Michael White, who has an overall record of 101-40 (.716) in four seasons.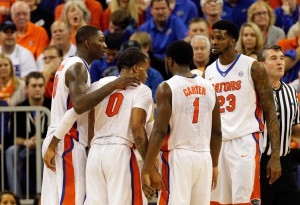 ---
Despite releasing a projected starting lineup for Thursday night's home exhibition match against Palm Beach Atlantic University, White knows that he has a flexible roster.
"I've told these guys since our first team meeting,"  White told reporters. "I don't care who starts and I hope, at least to a certain extent, that they don't care. It's about Florida basketball winning and improving."
Florida's probable starting lineup is listed below, but White said he will evaluate the roster on a day-to-day basis this season.
# – Name – Position – Class
1 – DeVon Walker – Forward – RJr.
10 – Dorian Finney-Smith – Forward – RSr.
15 – John Egbunu – Center – RSo.
0 – Kasey Hill – Guard – Jr.
4 – KeVaughn Allen – Guard – Fr.
---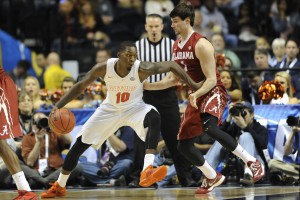 The Gators will need to improve on SEC play this year, after finishing last season with a conference record of 8-10.
"I think this team has more of an opportunity to grow during the season than most other teams," White explained. "Because of this staff transition and because of having seven new guys, plus DeVon Walker coming off a red shirt."
The Gators must grow if they have any chance of toppling Kentucky, a conference rival and perennial powerhouse that knocked them out of the quarterfinals in last season's SEC tournament. Despite the change at head coach, the Gator faithful are hoping for a quick and smooth transition to Mike White to continue the program's success.
Mike White discusses the starting lineup.
White discusses the need for growth.