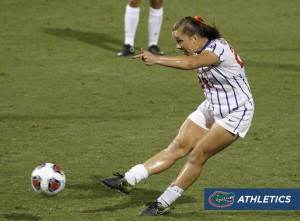 (Video Report from ESPN Gainesville Reporter Ben Murphy)
A ruthless offense and strong defense help lead the No. 2 region seed Florida Gators past the William and Mary Tribe 5-2 Friday night. With this win the Gators move onto the round of sixteen where they will face Duke.
This is the second straight year the Gators have made the round of sixteen and their 11th time in UF's 19 NCAA tournament appearances. This win also pushes the orange and blue's current win streak to 11 games.
Florida started the game out on the attack with constant pressure in the Tribe's half of the field. Despite having twelve shots total in the first half the Gators would only get one goal. In the 40th minute freshman Briana Solis passed the ball towards the top of the box to Meggie Doughtery Howard who took one touch and fired a shot from 20 yards out to give the Gators a 1-0 lead.
Howard says when she got the ball she saw some space over her shoulder so she felt like she had room to get a shot off.
That was Howard's third goal of the season and the assist was Solis's second in the last two games.
In the second half the Florida offense started to become more efficient by putting more shots in the back of the net. In the 59th minute Savannah Jordan gave the Gators a 2-0 lead after she scored her 23rd goal of the season from 5-yards out. A minute later the Gators would get another insurance goal from freshman Sarah Troccoli after she tapped in a pass from Savannah Jordan.
The Gators last two goals came from Jordan and Pamela Begic. Jordan scored her 23rd and 24th goals of the season Friday night, which is a new career high for her. Her career total goals of 65 is the second highest among current collegiate players.
Jordan says that Florida just kept playing their game and used combination plays more in the second half to set up more goal-scoring opportunities.
Defensive play was also strong for the Gators Friday night. William and Mary managed to only take five shots all night long. The Tribe finally got on the board in the 76th minute after Rachel Moore converted on a PK. Their last goal would come in the 87th minute after Leci Irvin scored from nine yards out to make the final score 5-2.
Florida head coach Becky Burleigh says she really liked how her team possessed the ball tonight and kept the pressure on the attacking side of the field.
Up next for the Gators is the No. 3 seed in the region Duke. The blue Devils defeated FGCU 2-0 Friday afternoon. Match time this Sunday from Donald R. Dizney stadium is set for 2p.m.