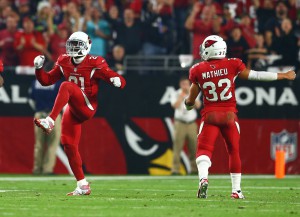 The Arizona Cardinals will be expected to be back in Super Bowl contention after going 13-3 and losing in the NFC Championship game last season.
The majority of the roster will return for this upcoming season.
Quarterback Carson Palmer will be back starting under center after having one of his best seasons of his career. The Cardinals would like to look ahead and address the quarterback position after Carson Palmer this offseason.
The receiving corps will return to strive to repeat being ranked top five in every passing category, including standout veteran Larry Fitzgerald, who is two touchdowns away from 100 career touchdowns.
Along with Chris Johnson, who sign a one-year, $3 million deal to stay in Arizona, the Cardinals should once again be one of the better offenses in the NFL.
The other side of the ball has some additions made in the offseason. Arizona gave up Guard Jonathan Cooper and a 6th round pick to get Defensive End Chandler Jones from the New England Patriots. The Cardinals only had one player with ten or more sacks in the last 11 years; Jones has does it twice. They filled the void at guard by signing Evan Mathis to a one-year deal.
Chandler Jones should benefit in the Cardinals' defense with their talented secondary that includes Patrick Peterson and Tyrann Mathieu. Mathieu is entering the final year of his contract and rehabbing after tearing his ACL last year, but Arizona Cardinals head coach Bruce Arians hopes to get a deal done sooner rather than later.
Winning the NFC West again won't be an easy task for the Arizona Cardinals. The Seattle Seahawks will be favored by many people to win the division and the San Francisco 49ers are expected to improve with new head coach Chip Kelly. Bruce Arians highly respects Chip Kelly and won't take the 49ers lightly.
With consistency and maintaining good health, look for the Arizona Cardinals to contend for the Super Bowl.