The Florida baseball team will take to the road this weekend for a three-game series with the Georgia Bulldogs.
The series opener is set for 7 p.m. Friday at Foley Field in Athens. Florida leads the all-time series over Georgia 182-104-2.
With the spring semester over and exam week behind them, the team will be able to focus on just baseball from here on out, just in time as the regular season enters the home stretch.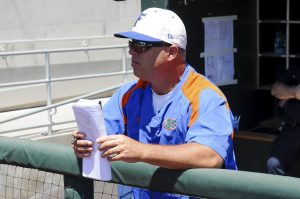 Head Coach Kevin O'Sullivan said on Wednesday at practice that the team tends to play better without school weighing on them.
With that being said, he doesn't plan on taking this weekend lightly. The Bulldogs are 17-25 overall, 5-13 in the SEC. O'Sullivan said not to let the record fool you.
Here is Sully's full analysis on the Georgia squad they'll face this weekend. He said they have a talented but young roster that he also recruited and a collection of arms that has good velocity.
O'Sullivan has only dropped one game to Georgia in the regular season in his nine years as head coach.
Picking up a few wins this weekend will be a nice pad for the Gators in the SEC standings. Right now, they sit right behind Kentucky for first place in the East.
This weekend will see their usual arms for the Gators. Alex Faedo will start on Friday, followed by Brady Singer and Jackson Kowar starting the rest of the weekend.
While the starters are usually not the issue for the Gators pitching staff, the bull pen has really been picking it up as of late.
After entering 2017 as a ❓, the #Gators bullpen has already made major strides.

First 2️⃣5️⃣ games: 4.81 ERA
Last 1️⃣5️⃣ games: 2.06 ERA pic.twitter.com/nNOfX8jTBC

— Gators Baseball (@GatorsBB) April 26, 2017
One of those arms is sophomore Michael Byrne, who has eight saves in the year, the second-most in the SEC. He's become the go-to closer and O'Sullivan said he'd like to see Byrne be able to go two or three innings. As for now, he's happy with the role Bryne has taken on. 
Tune In
All three games this weekend will stream live on SEC Network+ via the WatchESPN app. Saturday's game will begin at 2 p.m., Sunday at 1 p.m.