The No. 21 LSU Tigers come to Gainesville this weekend, setting course for an electric SEC series.
Start Strong, Finish Stronger
Florida has made a case all season that they are serious contenders. The team sits at third in the nation in home runs with 43 so far, and with starting pitcher Hunter Barco only allowing 17 hits on the season, the Gators are a scary program to face. Florida has also only lost one series, opening weekend against Liberty.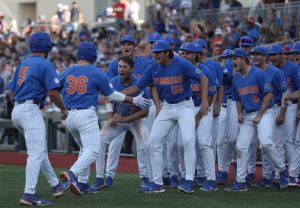 So where do the Gators problems come in? In the last two series, Florida had been in position for a series sweep, and dropped the Sunday game. While the hometown team had no issue scoring, they faltered with inexperienced closing pitchers. Both closing games, had constant pitching rotations, with five used against Alabama and six against Seton Hall.
Ready to shove. #GoGators pic.twitter.com/XgJWoZ3a7w

— Florida Gators Baseball (@GatorsBB) March 24, 2022
This lack of experience in later games has held Florida back, and needs to be quickly figured out if the Gators hope to dominate the remainder of their schedule.
Tiger Trouble
LSU enters the Swamp this weekend after a rough week. Dropping two games to unranked Texas A&M, as well as a Wednesday heartbreaker against Louisiana Tech, the Tigers need a win. So far this season, LSU has yet to win against a ranked opponent, which is noticeably frustrating to first year coach Jay Johnson.
The team does host some impressive wins, with seven scoring over 10 runs. Dylan Crews (33H, 25R), Cade Doughty (30H, 21R) and Jacob Berry (30H, 20R) have been the team's saving grace, putting up a considerable amount of points for the Tigers. The main issue LSU faces is similar to Florida, finding solid pitchers. The Tigers have already let up 97 runs to the Gators 71, and have yet to find a consistent rotation that allows them to close big games.
Despite all this, LSU only has one loss more than Florida, and with a need for a big win, the Tigers should be expected to play ferociously. While O'Sullivan and his squad have been up for any challenge, this weekend will give us another glimpse at the future of this 2022 team.
https://twitter.com/GatorsBB/status/1507341537738256385?s=20&t=pD-86gIhMwWc2WkOJg0aCw
The series begins at 7 p.m. on Friday, March 25 at Florida Ballpark.