Santa Fe College men's basketball was stunned by the State College of Florida Manatees 97-80 Tuesday. The Manatees (16-4) snapped the Saint's five game winning streak, dropping their record 11-5.
Bobby Hunter led the Saints with 20 points, followed by Roody St. Germain with 14 points and Deonte Moore with 12.  Takija Knight led the team with six rebounds.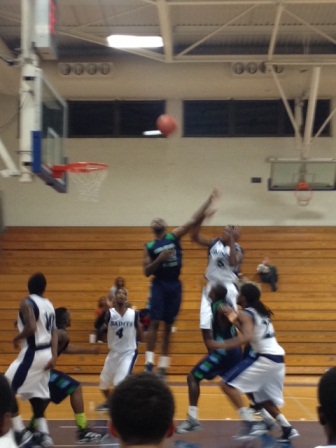 Roody St. Germain, second leading scorer with 14 pts
The Saints jumped out with an early lead that quickly thinned, and handed the Manatees a 47-45 lead at the half.  State College of Florida came out powerful in the second half, shooting 62 percent from the floor and 44 percent from 3 point range, while maintaining a double-digit lead through most of the second half.  Santa Fe head coach Chris Mowry says his team fell short on both sides of the ball.
The two teams met earlier in the season with State College of Florida coming out on top 107-97 in Bradenton. Falling to the Manatees a second time, Mowry says his team isn't quite at their level despite the Saints' tough grind.
The Saints not only struggled defensively, allowing 50 points in the second half alone, but also failed to put points on the board—something Mowry says is crucial, regardless of their perseverance throughout the game.
Santa Fe looks to bounce back as they take on conference foe College of Central Florida Saturday at home.