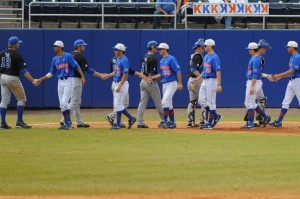 Gator Baseball Falls to No. 10 Kentucky
The Florida Gator baseball team was beaten by the Kentucky Wildcats on Sunday afternoon 6-2. The Wildcats (16-3, 2-1 SEC) claimed the final two games of the three-game series to take the series over the Gators (9-12, 1-2 SEC) for the first time in Gainesville since 1999.
No. 3 Gator Softball Defeats No.6 Tennessee: The Florida Gator softball team defeated the Tennessee Volunteers Friday 6-5 in 8 innings, then took the rubber-match of the three-game series Sunday 5-3 in 8 innings. The Gators won on Sunday in walk off fashion, courtesy of a Lauren Haeger two-run bomb to left center to lift the Gators over the Volunteers.
Brown Victorious at Gatornationals: Antron Brown won the 2013 NHRA Gatornationals in Gainesville on Sunday. Brown covered the 1,000-foot strip of pavement 3.761 seconds, reaching just under 318 mph. This was Brown's 22nd career victory in Top Fuel and the 200th all-time victory for his team, Don Schumacher Racing.
No. 4 Gator Women's Tennis Tops Tennessee 4-0
The Gator Women's tennis team defeated Tennessee on Sunday 4-0. The fourth-ranked Gators (11-2, 4-1 SEC) have now won 115 matches in a row, the longest active home winning streak by any NCAA Division I women's team in any sport.