After ending a 31 year championship drought in 2013 and winning a second consecutive championship in 2014, the goal remains the same for the Gator gymnastics team as they prepare for their upcoming season.  Win another national championship.
Except this season, they have the opportunity to do more than just win another championship. This season they have the opportunity to do something that only two women's gymnastics programs have done in the history of the NCAA; win a third consecutive national championship.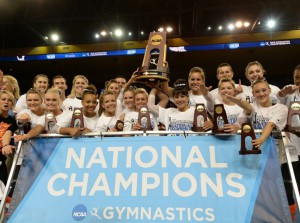 The Gators celebrate after winning the 2013 national title.
The only programs to do it have been Utah (1982-85) and Georgia (2005-2007). Both programs accomplished this feat en route to winning five straight national titles. Despite the pressure that usually comes with winning back-to-back national championships, the Gators remain unaffected by the increased level of expectation that currently surrounds their team.
"I don't think it's pressure. I think it's motivation," said sophomore Claire Boyce. "You know, we don't feel like we have to, but we want to. And it just gives us a burning desire deep inside that we just wanna get that third one."
In order to win their third consecutive title, the Gators will have to overcome the departures of standout seniors such as 16 time All-American Alaina Johnson and nine-time All-American Mackenzie Caquatto.
Johnson won four uneven bars and three beam titles in 2014, while Caquatto finished as Florida's career leader in All-America honors (14) in NCAA Championship competition and set the nation's 2014 high and Gator record all-around total of 39.825 against West Virginia.
"I think our team dynamic is a lot different and right now were just focusing on putting routines together and trying to be consistent," said Boyce.
Despite the loss of some veteran leadership on the squad, junior Bridgette Caquatto believes the underclassmen on the team will step up and make a significant impact.
"We've got a lot of younger classmen and last year we only had like two freshmen, this year we have five," said Caquatto. "We got a lot of newbies and they're just really cute and they're just trying to figure everything out. It's fun to help them through that and they're a really fun bunch and they all have some great qualities to offer."
Some of the incoming freshmen include Kennedy Baker and Grace McLaughlin. Baker is known for her explosive strength and has a ton of experience competing at the national level having been on the U.S. Senior National Team twice. She also placed at the 2012 U.S. Olympic Trials on the uneven bars and floor exercise.
McLaughlin is known for her execution and visually appealing routines and, like Baker, was also a member of the U.S. Senior National team.
Overall, in order for this team to contend for another national title this season, Caquatto believes they will have to work on one thing…details.
"For this team, I think it's gonna come down to the little nit-picky things, which is detail for us. You know, the form, straight knees, pointed toes, stuck landing kinda things. Because we have the big skills and great amplitude and attitude out on the floor and we're willing to present it. It's just the little details that make the biggest difference and sets you apart from being a national champion from being like in second place."
The Gators will have their first meet of the upcoming season on January 11th against Ball State in Muncie, Indiana.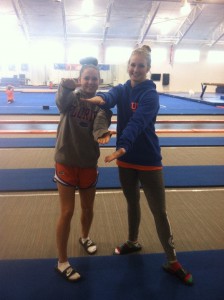 Bridgette Caquatto (left) and Claire Boyce.