Despite a late rally, the Florida women's basketball team (9-7, SEC 1-2) could not recover from its first half struggle in its 64-57 home loss against Ole Miss (12-4, SEC 2-1) Thursday night.
The Gators struggled the entire first half with scoring. Ole Miss scored 13 points before the Gators scored their first pair of the game.
The Ronni Williams layup gave the team a spark that she kept lit. With 7:04 left in the half, the score was 22-9 Rebels, and Williams was responsible for six of Florida's points.
Despite the momentum of Florida, the Rebels didn't falter as they took a 35-20 halftime lead.  The Gators ended the half shooting just 31% from the field, 57% from the free throw line, and they were 0-6 from behind the arc. They also accumulated 15 turnovers in the first 20 minutes of play.
Gator coach Amanda Butler spoke about her team's struggle.
"We've not been able to establish that way we want to play and then really carry that out consistently," she said.
Ole Miss opened up the second half on a 7-3 run, stretching the score to 41-23. From that point on, it seemed to be all Ole Miss. With 12:08 left in regulation, the Gators trailed the Rebels 51-30, Ole Miss' largest lead of the game.
But the Gators mounted and charge and with 52 seconds left in the game, Florida cut its deficit to just 60-57.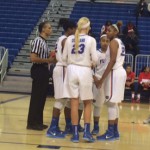 "When we started to just score it became easy, we were scoring easily," said forward Kayla Lewis. "We scored off of our defense, we were getting the ball inside the paint off the dribble, and those were things that we couldn't do in the first half because we were turning the ball over."
With time working against them, the Gators begin to foul. Made free throws stretched Ole Miss' lead to 7 and then time expired.
Next up for the Gators is a road match up against Missouri. You can listen to the game right here on ESPN 850 WRUF. Tip-off is set for 4 p.m.
For audio clips, click the links below: