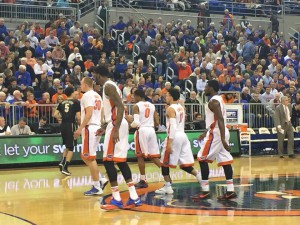 Snake-bitten. Almost there. Close but no cigar. Team bad luck.
Those phrases have defined the 2014-15 Florida Gator men's basketball team, who have gone 2-6 in games decided by two points or less and lost their last two games by a single point each.
But Wednesday night was a different story, as the Gators got a game-winning dunk from freshman Devin Robinson with just over two seconds remaining to lift them over the Vanderbilt Commodores. Fellow freshman Chris Chiozza added two free throws after a Commodore turnover on the ensuing inbound, giving the Gators a 50-47 victory.
The win ended a four game losing skid by Florida (13-13), and reminded the young group that they could pull out a close one. Junior Alex Murphy's answer when asked if the Gators ever doubted themselves as a result of their recent heartbreaks was showing about what those narrow defeats have done to the team's mindset.
"Yea of course," Murphy said. "You've gotta snap out of it…(but) of course that comes in your mind. But you've gotta get rid of that quick because the game wasn't over."
The Gators were able to get the win as a result of their defense down the stretch. Florida trailed the Dores (14-12) by six points with 12 minutes remaining, but limited Vandy to 14 points f0r the remainder of the game. The Gators used a 13-0 run over a five minute stretch late to take their first lead of the second half, but Vanderbilt answered by going on a 11-4 run in the final minutes to regain the lead. From there, the teams traded baskets and the lead, with Robinson landing the final blow.
Robinson will go down as the hero, but he made sure to credit point guard Kasey Hill for setting him up for the big finish.
"It was a good feed," Robinson said. "He penetrated, got the big man in the air and I was just in the right spot in the right time and just went up and finished it."
Robinson led the Gators with 12 points, stepping up while Florida was without their top two scorers. Michael Frazier II has been out due to an ankle injury since the Gators' loss to Kentucky, and it was announced Wednesday that Dorian Finney-Smith was suspended due to a violation of team rules.
The freshman forward's performance was even more impressive given how he began the game. Robinson was benched early on by head coach Billy Donovan, a move later explained to be due to a lack of focus by Robinson, and he responded by scoring 10 of Florida's final 18 points over the final 12 minutes.
"It was good to see him do that," Chiozza said of Robinson's reaction to being benched. "Normally…he gets down on himself real easy. Coach Donovan talked to him at halftime and really got into him, and he came out and responded well in the second half."
Although there was a possible exorcism of close loss demons performed by the Gators on Wednesday night, Donovan no doubt still believes his group has a number of areas they need to improve in, particularly on the offensive side of the ball.
"They've got to get to a point and a place that they understand because of their offensive struggles, it can't get in the way of them not competing," Donovan said. "You can still do things to compete in the game to put yourself in a position to win…and I thought we did that (tonight)."
Florida shot just 18 of-50 (36%) from the field, but were aided in victory by Vanderbilt going 15 of-51 (33%). Free throws were yet again an issue for the Gators, as they made just 10 of-20 (50%) from the line.
Next stop for Florida is Mardi Gras, as the Gators travel to LSU to face the Tigers on Saturday. Tip-off from the Pete Maravich Assembly Center is at 1, with coverage beginning at 12:25 on Country 103.7 The Gator.
Click below to hear coach quotes from the game: