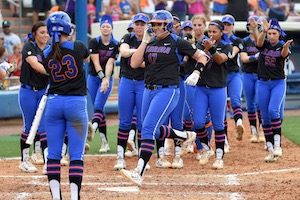 Lauren Haeger ties career home run record in 6-3 win over Kentucky.
The Florida softball team goes for a series sweep today after beating the Kentucky Wildcats 6-3 Sunday in Gainesville.
The Wildcats started the offensive momentum in the top of the third inning when Florida starting pitcher Aleshia Ocasio gave up a two run homer to give Kentucky an early lead.
The Gators did not answer until the bottom of the fourth but when they did answer, they answered big.
Nicole DeWitt had an RBI hit and Kirsti Merrit drove home two runs with a bases loaded single. After striking out her first two at bats, Lauren Haeger hit a three run homer to give UF a 6-2 lead.   The homer by Haeger ties her with Megan Bush for the most home runs in a career with 65 long balls.
Kentucky got a solo homer in the sixth inning but reliever Delanie Gourley closed out the Wildcats to take the game and improve to 39-4 overall and to 10-4 in the SEC.
Florida coach Tim Walton talks about Haeger tying the Gator home run record.
"It is a great accomplishment, it's a record that only four people have had now. Kelly Kretschman, Francesca Enea and Megan Bush and now for Lauren Haeger to be mentioned in that same breath as those three hitters, it says a lot about her."
UF starting pitcher Aleshia Ocasio said her team's offense and defensive talents helped them get the win.
"I was just mixing up my pitches, my catcher was doing a great job changing the pitches. Honestly our offense did great today, we battled and came out and won the game. I thought our offense played really well as well as our defense."
To hear more from Florida softball, click on the links below: