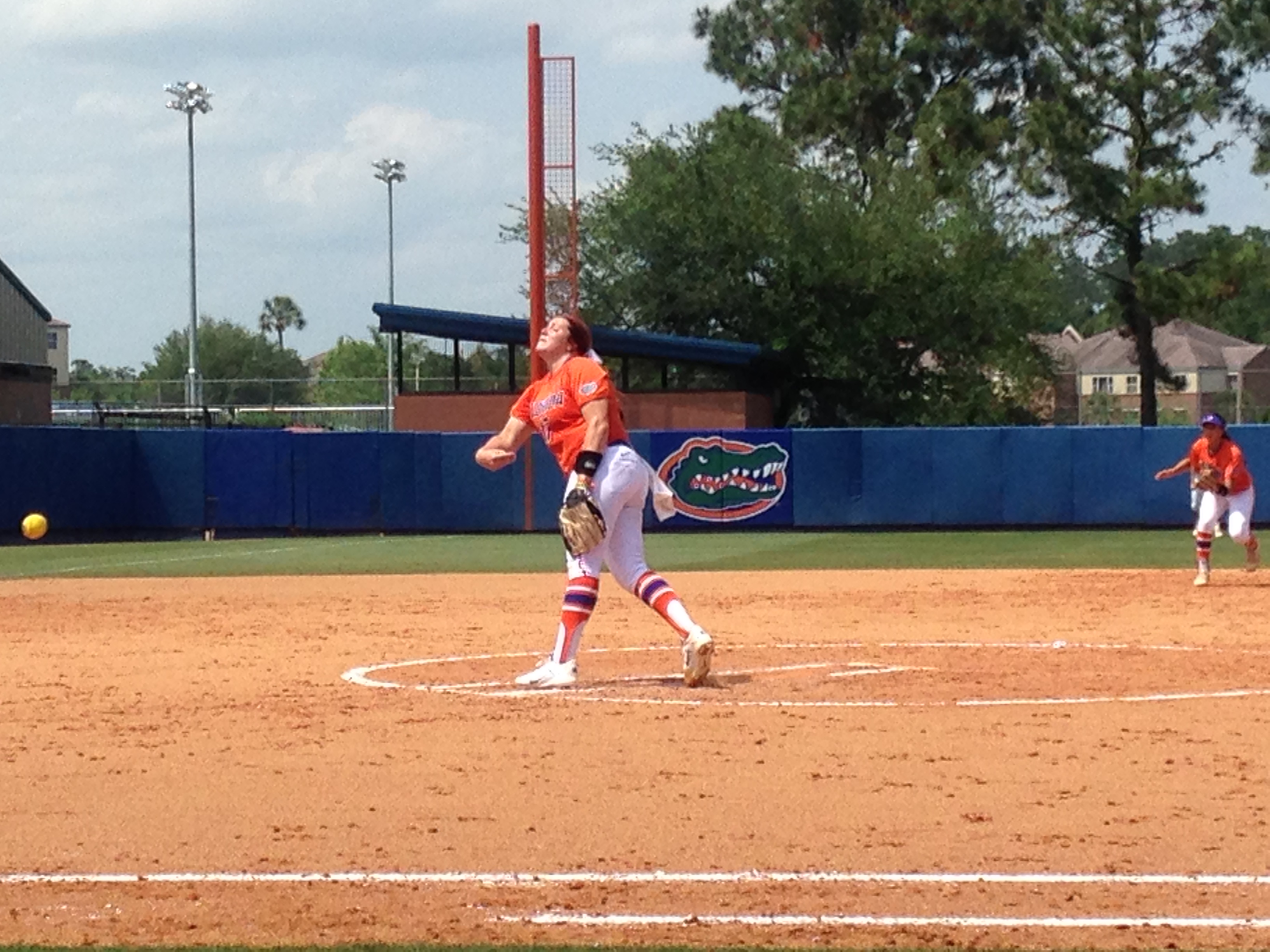 Sara Mac/Lauren Haeger in the circle as the Florida Gators take on Texas A&M
The number one ranked Florida Softball team swept their last home series of the regular season against the Texas A&M Aggies after an hour rain delay pushed back the first pitch to 2 pm. The Gators closed out the game early needing only five innings to take the 9-1 win.
The Aggies got ahead in the first with a home run by Tori Vidales but the Gators answered back with three runs in the bottom of the first.
Lauren Haeger took the win in the circle and did not give up another hit after the homer. Haeger feels she should have read the hitter better.
"I mean I just left that pitch right there, I had her 0-2. She did a good job on an 0-2 pitch. It needed to be a little bit up and a little bit more out but she did a great job; her home runs were on rise balls this weekend and I should have known that."
Sunday's win over the Aggies gave Haeger her 23rd win of the season and the senior set yet another school record with the best start to a season in program history.
Florida's offense was on fire as seven Gators scored and eight got hits. Gator coach Tim Walton feels his team performed well and is excited to see how they perform in the future.
"I've coached for a long time and I coach to win. We're not always going to win the game but I coach to win and I try to put my players in the best situations possible. We're very prepared."
The weekend series comes to a close just as the seniors last year comes to a close as well. Senior Jessica Damico pinch hit in the bottom of the fifth to get a two run single securing the win for the team.
Damico says she's always ready and wasn't surprised that Walton put her in.
"Its awesome to know that I still put in the work to be able to get the job done that my team needs me to do. Through all of it they've supported me and I've supported them and its nice just to be able to go out and give them what I have."
Up next for the Gators is the team's last weekend series of the regular season. Florida will be on the road to take on Missouri Friday night at 7:30.
For full audio on the above clips see below:
Lauren Haeger on her pitching preformance
Tim Walton on his syle of coaching
Jessica Damico on her two run hit