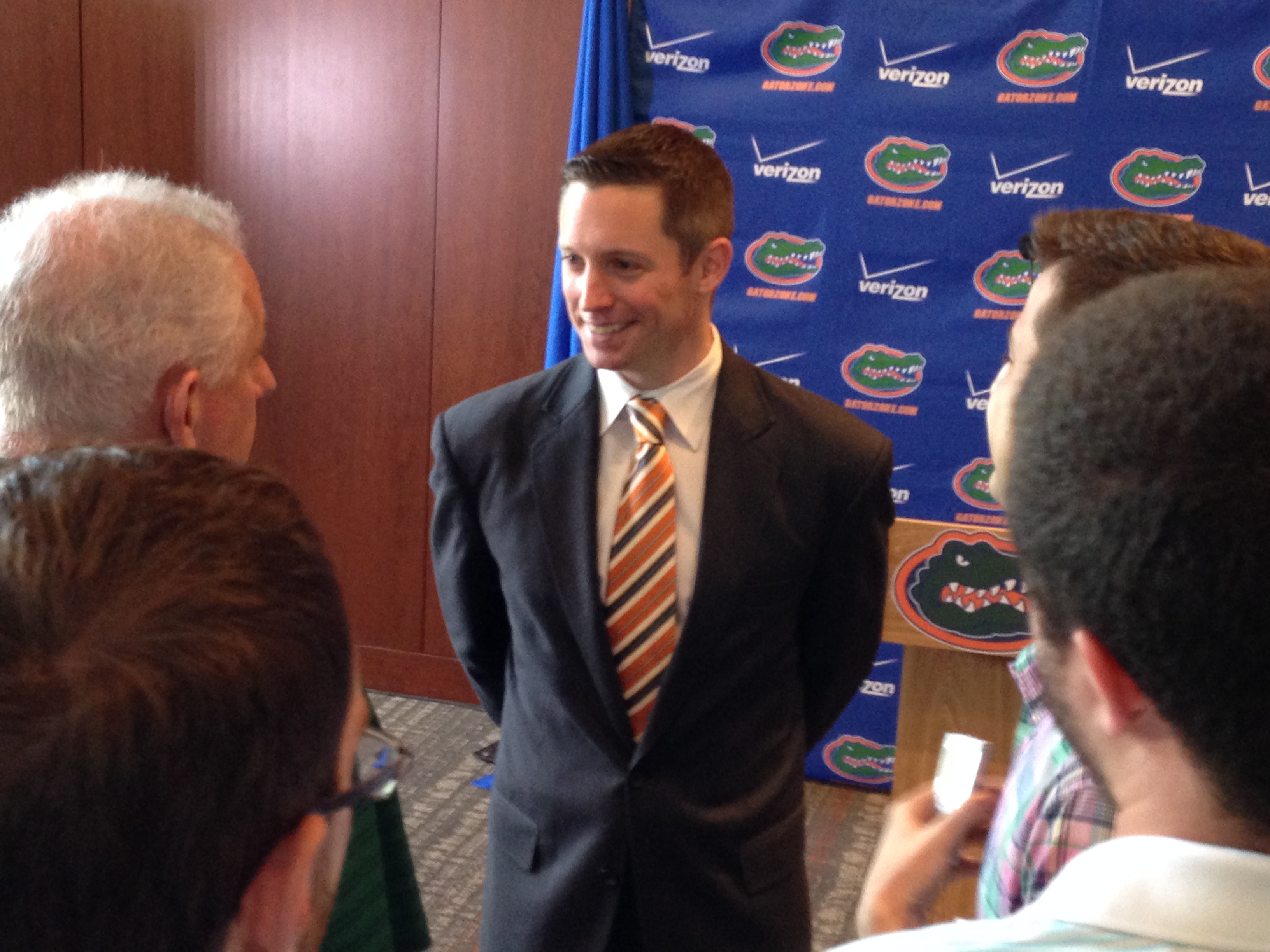 Michael White meeting and greeting with the local Gainesville media
Newly hired Michael White was officially introduced as the Florida Gator head basketball coach on Monday in a press conference. White replaces Billy Donovan, who flourished for nearly two decades at the helm of the Florida basketball program. The former Louisiana Tech head coach feels privileged to carry the torch Donovan held for so long.
"It's an absolute honor of mine to replace Billy Donovan. One of the best coaches in the history of this game. I have tremendous respect and admiration for the legacy that he leaves and it's my charge to continue the momentum that he has maintained for an amazing 19 years."
Before going 101-40 in four years at Louisiana Tech, White was an assistant at Ole Miss for seven seasons. He actually played his college ball as a Rebel, starting all four years, s leading them to the first NCAA Tournament win in school history. White knows how special it is to be competing in the SEC.
"It's a terrific league. Always been a terrific league in all sports. But basketball has made a jump, especially last season with the additional teams in the NCAA Tournament and a couple of others who were on the bubble. It's a league that continues to build its basketball brand and I'm excited to be a part of it."
White was selected as the Conference-USA Coach of the Year in 2014-15. Several current SEC coaches and other greats were honored with that award before making it to their big jobs. Kentucky's John Calipari, Louisville's Rick Pitino, West Virginia's Bob Huggins and Arkansas's Mike Anderson all won the award.  Billy Donovan coached Marshall before making his way to Gainesville and they are in that same conference. White's and Donovan's coaching styles have been similarly compared, both having high-tempo offenses and the defensive press. White is not entirely sure how similar those styles are.
"Anyone who is comparing us (Louisiana Tech) to Billy Donovan in any way, it's an absolute compliment. I'm not sure how much we (Louisiana Tech) play like Florida. I guess we will find out more about that."
Everyone will have to wait until November to see Michael White coach in an actual game. Right now the focus is recruiting and keeping the four incoming prospects from changing schools: Noah Dickerson, KeVaughn Allen, Kevarrius Hayes and Keith Stone. White is not entirely concerned with the recruits leaving.
"All four we've reached out to. I've met a couple in person and these couple of Florida guys I look forward to meeting this week. We've had a bunch of positive feedback. I don't think we have had any final answers yet. I'm not into begging. I think this place to a certain extent sell itself."
As for the current roster, White believes there is a lot of good players at hand.
"I know that we have got some talent. I know that, in talking with them one-on-one in the past several days, I think we got some really good people…If any of these guys signed to play here for Billy Donovan at Florida, they're good players obviously…We need to figure out how to best help them"
The Florida Gators open their season against Navy in Annapolis on November 13th.
White excited to be back in the SEC
White's thoughts on current Florida roster
White unsure how his coaching style is similar to Billy's