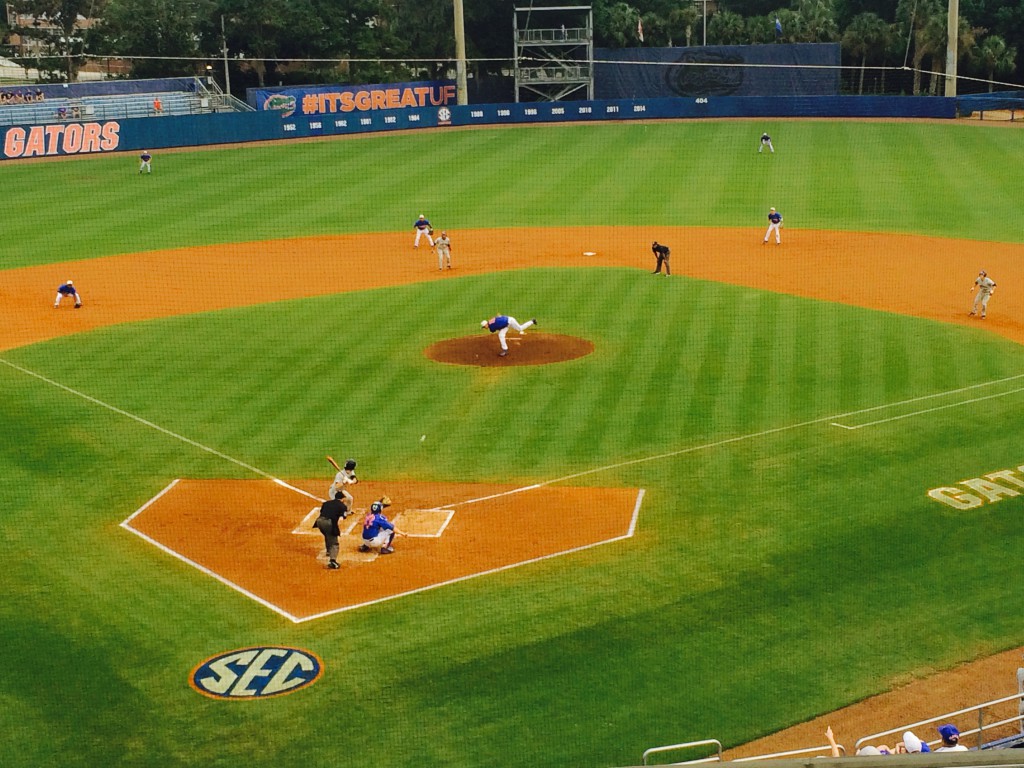 The #7 Florida baseball team (39-15, 18-11 SEC) rallies from an early deficit to defeat the Auburn Tigers (34-21, 13-16 SEC) 4-3 Friday to tie their final regular season series at one game each.
The Tigers knocked around Florida starter A.J. Puk, and jumped out to an early 3-0 lead in the second inning.
Puk, who had been outstanding in his previous two starts – racking up 23 strikeouts over that span – struggled, only lasting 3 1/3 innings while giving up three runs.
The Gators would not stay down for long, as they struck back with three runs of their own in the bottom half of the fourth inning, with RBIs coming from shortstop Richie Martin, third baseman Josh Tobias and first baseman Peter Alonso, who would add the go-ahead RBI in the sixth inning with a sacrifice fly.
Gator coach Kevin O'Sullivan talked about the win for his team.
"This has been a hard series. This is one of those things where we have had to grind out everything we've gotten. Auburn hasn't given us anything. We could've easily hung our heads after we fell behind in the second, but we battled, and this is another gut-check win that we desperately needed."
Despite Puk's struggles in the game, two pitchers came on in relief shutting the door on Auburn. Senior Aaron Rhodes and sophomore Kirby Snead combined for 5 2/3 scoreless innings, allowing just one hit and one walk over that time.
Rhodes talked about his performance.
"It means a lot, especially during Senior Weekend to do that for the team. It's crazy to think that my career is already almost over here at Florida. It was exciting to go out there and throw up a few zeros."
The win clinched a top four seed for the Gators in the SEC tournament, giving them a bye in the first round.
The Gators will look to grab a series-clinching win on Senior Day to send off Bobby Poyner, Aaron Rhodes and Josh Tobias in their final regular season home game.
First pitch on Sunday is set for 1 p.m; Country 103-7 The Gator has live coverage at 12:55 pm.
For sound from the game, click below.
Peter Alonso on importance of win
Alonso on momentum going into the tournament
Aaron Rhodes on his performance
Rhodes on his approach on the mound
Rhodes on A.J. Puk's importance to the team
Kevin O'Sullivan on the senior contribution
O'Sullivan on leaving Snead in the game
O'Sullivan on Josh Tobias' defense
O'Sullivan on Harrison Bader's struggles
O'Sullivan on importance of this weekend's series in the SEC