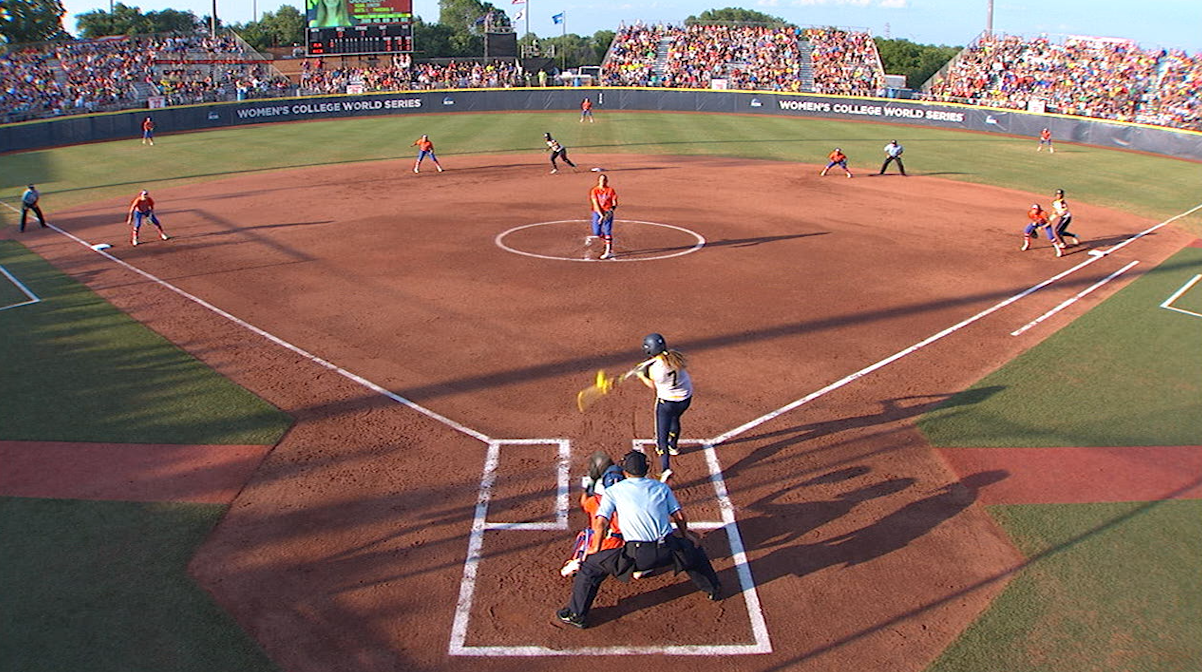 Kelsey Susalla connects with a pitch and hits it to center
Going into Game 2 of the Women's College World Series, it seemed like the Florida  softball team was on its way to winning another national title. UF won a closely contested first game on Monday, and they didn't even use Lauren Haeger in the circle. By starting the National Player of the Year in Game 2, the Gators were ready to win.
What wasn't accounted for was Michigan's decision to start Haylie Wagner, one of the hottest pitchers in the country who didn't concede a run to Florida in Game 1 when she pitched in relief. Wagner's dominance in the circle got the Wolverines a 1-0 win in Game 2 in the Women's College World Series, forcing a win or go home scenario on Wednesday. Gator coach Tim Walton tipped his cap to Michigan after the game.
"I thought they played a really good defensive game. Haylie Wagner pitched a really good one. And I thought their intensity right from pitch one was good, just a good softball game. Obviously we came up on the short end of the stick with the runs but good softball play, some good defense all the way around."
Haeger pitched a great game for Florida. In fact, she allowed fewer hits than Wagner. But Kelsey Susalla's RBI single in the bottom of the first was exactly what the Wolverines needed to win. It was just Haeger's second loss of the season. She said after the game that she is going to give it her all on Wednesday night.
"I obviously want to win my last game in a Gator uniform, that means a lot to me. I just want to leave it all out there on the field and not play scared."
Wagner pitched with runners on base for most of her seven complete innings. Thankfully for Michigan, their defense played just as well as the Gator defense did in Game 1. That and the ability of Wagner to keep the Gator hitters off-balance got them the victory. Walton believed his team's plate approach was the same in Game 1 and 2.
"The swings looked pretty similar yesterday with a 3-0 lead as opposed to today being down 0-1. I think it's her (Wagner). We struggled with her twice this season."
The third and final game of the Women's College World Series Championship Series will get underway at 8 p.m. on Wednesday.
For full audio clips of quotes above, click below:
Tim Walton recaps the loss against Michigan
Haeger on her approaching her last Gator game