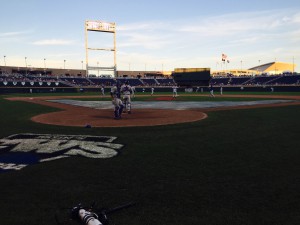 After 10 straight games of absolute dominance, the Florida baseball team's winning ways came to a screeching halt against Virginia on Monday. The Gators were defeated on Monday 1-0 at the College World Series in what turned out to be a pitching duel between A.J. Puk and Virginia's Brandon Waddell. Waddell came out on top dealing seven scoreless innings allowing just two UF hits.
Florida head coach Kevin O'Sullivan gives Waddell a lot of praise.
"Sometimes you've just got to credit the pitcher. I'm not going to fault our guys. You gotta remember he's a fifth-round pick. He beat Vanderbilt last year in the second game, forced a game three. He's good. Probably the best he's pitched all year. He was on tonight. I don't want to take anything away from him, I don't want to blame our hitters that we didn't have good approaches. It's just we ran across a really good pitcher that located his pitches tonight and didn't give us a whole lot."
Virginia's lone run came in the sixth inning. UVA's Robbie Coman delivered a bases loaded sacrifice fly to give the Cavaliers a 1-0 lead.
It was a tough night for the Gators offensively, having just one runner reach third base the whole night. That moment came when Florida has runners on first and third with no outs in the eighth inning. Three Florida batters were not able to convert in the clutch situation.
O'Sullivan says the eighth inning could've gone a whole lot differently.
"Obviously we had a chance there in the eighth with first and third, and Harrison put a really good swing on the ball. And Sborz did a nice job, and kept his composure, got the out at second. It's one of those things, if the ball gets through it's a totally different ballgame."
Florida starter A.J. Puk had an outstanding game in his Midwest homecoming. Growing up four hours outside Omaha in Cedar Rapids, Iowa, Puk showed out in front of family and friends. He pitched 5.1 innings, striking out five but took a tough loss.
This was the first time UF had been shutout since May 7th, 2015 against Vanderbilt.
Florida will match up against Miami on Wednesday in a win or go home situation. Catch the action on 103-7 The Gator at 8pm ET.
Sound from the game:
2nd Baseman Dalton Guthrie
Florida head coach Kevin O'Sullivan