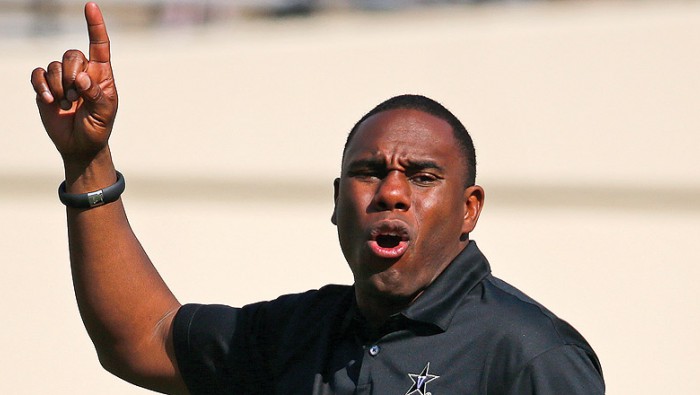 The Vanderbilt Commodores help kick off the 2015 football season Thursday night, when they'll welcome the Western Kentucky Hilltoppers into Vanderbilt Stadium.
Thursday ushers in year two of the Derek Mason Era in Nashville, with Mason's Commodores looking to rebound from an abysmal 2014 season in which they went 3-9. Arguably even more embarrassing, the Dores went 0-8 in the SEC last season, losing seven of those games by double digits. In order to make it to third season in the Music City, Mason needs the program to show signs of making major strides. In Wednesday's SEC Teleconference, Mason seemed to believe the Commodores were on the verge of doing just that.
"This group is solid from top to bottom," Mason said. "I think we have a chance to, still, have playmakers in the fold, and I'm excited to see what these guys are going to do (against Western Kentucky)."
Mason also believes he's grown as a head coach after going through the ringer last year. Mason touched on the intricacies of the game he was able to pick up on at the Wednesday's teleconference.
"Allowing myself to get into the flow of calling the game from the sideline," Mason said. "Just getting the mechanics down. The idea of how fast you've got to go when you're going against tempo."
One thing to look for in the opener that could be telling of how the entire year might unfold is the play at quarterback for the Dores. Johnny McCrary and Wade Freebeck competed all offseason for the starting job, with Mason keeping any decision he may have made in the battle close to the vest, deciding not to reveal who will start until game time against the Hilltoppers. The two both played last season as freshmen, with McCrary throwing for 985 yards, nine touchdowns and eight interceptions, and Freebeck putting up 376 yards, one touchdown and five interceptions. Regardless of who gets the call, the Commodores will need improvement at the position in order to have a successful 2015.
While tonight's match up is between a member of the mighty SEC and the non power five Conference USA, Western Kentucky is far from a cupcake. Rather, the Hilltoppers are favored in the game according to Vegas. WKU went 8-5 last season, and they return quarterback Brandon Doughty, who picked up Conference USA MVP honors in 2014 after throwing for 4,830 yards and 49 touchdowns.
Luckily for the Dores, they're expected to be much better on defense than on offense, but if Doughty has the monster game he's capable of, it could be a tough Thursday night for Vanderbilt.
Kickoff from Vanderbilt Stadium is at 8 p.m., with coverage on the SEC Network.
Click below to listen to Vanderbilt Head Coach Derek Mason's comments: