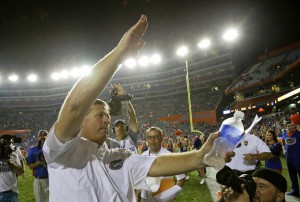 42-13.
That is what the scoreboard read on October 18th, 2014 when the game finally ended. It was homecoming for the University of Florida, and the Missouri Tigers had just embarrassed them in the Swamp. This Saturday it's Homecoming in Columbia, Missouri and the Florida Gators, ranked 11th in the country, are coming off one of the biggest wins in recent memory after defeating #3 Ole Miss 38-10.
Florida coach Jim McElwain will not let his team look ahead to the road night game in Death Valley against #7 LSU in a week. McElwain is busy focusing on the Tigers, and their freshman quarterback Drew Lock who will start due to the suspension of Maty Mauk.
"You see the confidence that they have in him [Drew Lock] and the thing I like is obviously they are doing the things that he is successful at," said McElwain.
Lock, who has played at least one snap in every game, was 21 of 28 for 136 yards and two touchdowns with no interceptions last week in the win against South Carolina.
Missouri spreads the ball around, with six receivers with over 90 receiving yards, but none of them surpassing 200 yards on the season. The Gators are fifth in the nation in total defense, allowing 287 yards per game. Missouri coach Gary Pinkel knows that this will be a tough test.
"Florida is playing exceptional defense and offensively they are playing at a whole different level then they have in the past. Their quarterback is playing well, its going to be a great challenge for us."
That quarterback that Pinkel refers to is redshirt freshman Will Grier, who was 24 of 29 against Ole Miss for 271 yards and four touchdowns, bringing his season total to 996 yards and 10 TDs with three interceptions. Even more impressive, against the blitz this season, Grier is 26 of 27 for 302 yards, with four touchdowns with an interception and three sacks.
The jump from #25 to #11 for the Gators was the highest in school history, but Will Grier and company enter October, a month that has not been friendly to the Orange and Blue lately. The Gators went 6-12 in this hallowing month between 2010-2014, and with a night game at LSU next week, and a Halloween meeting with Georgia still to go, this will be an important month.
Kickoff from "The Zou" (Memorial Stadium) on Saturday between Florida (5-0) and Missouri (4-1) will be at 7:30 in the Tigers' first SEC home night game since Nov. 20, 2013. Live radio coverage will be on ESPN Gainesville/95.3 FM starting at 3:30 pm.
To listen to the audio from the story, click below: