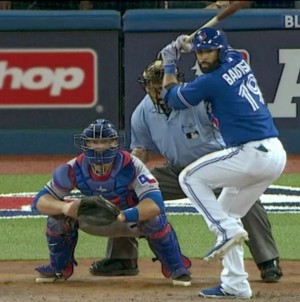 The Toronto Blue Jays found themselves in a 2-0 series deficit to the Kansas City Royals before Monday's game.  Toronto was in a similar situation against the Texas Rangers in the ALDS when they managed to win the series despite losing its first two games. After last night's performance, it looks like they might do it again.
The Blue Jays opened the game by crushing Kansas City's Johnny Cueto for seven runs before chasing him in the third inning, jump starting their 11-8 victory that would secure them Game 3 to cut the deficit in the series to just one game.
"You couldn't tell we were down 2-0 in the clubhouse," says Toronto starter Marcus Stroman. "Just looking to carry this momentum into the next couple of games."
To win Game 4, the Blue Jays must continue to produce offense.  In their three wins against the Rangers in the ALDS, they put up a total of 19 runs. In contrast, Toronto only put a combined three runs on the board in their first two games against Kansas City. The Blue Jays had the leading offense in the regular season, and they need to play like it.
Offense is not the only key for the Blue Jays, however.  Stroman notes that every player in the Royals lineup is a threat.  Kansas City has scored 19 runs so far in the ALCS, and the Blue Jays need to keep that number as low as possible.
The pitching match up for today's 4:00 PM game will feature former Cy Young winner R.A. Dickey for Toronto and Chris Young for Kansas City.