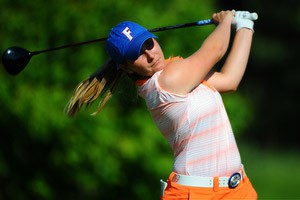 The Gator women's golf team is looking ahead to the start of the Alamo Invitational in San Antonio, Texas this weekend. The team is coming off of an eighth place finish at the Windy City Collegiate tournament in Chicago.
Sophomore Taylor Tomlinson led the way for the Gators in that tourney with her 19th place finish at one under par. Head Coach Emily Glaser says she was encouraged to see Tomlinson turn in a solid performance.
 Despite Tomlison's play, the Gators were unable to move up the leaderboard largely because the team struggled to putt the ball effectively. Glaser says the fact that they were playing on bent grass greens for the first time this year, might have had something to do with their struggles.
The Alamo Invitational will be the Gators' final tournament of the fall. Glaser says she believes the team is now mentally sharper than they were at the beginning of the season and believes all of the experiences they've had will greatly benefit them in the future.
The Gators will begin the Alamo tournament on Sunday, October 25th.