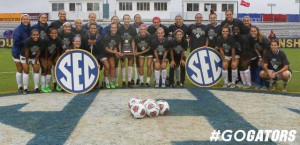 The Florida Gator soccer team (17-3-1) will host the Western Michigan Broncos (14-3-4) Saturday night in the first round of the NCAA Tournament. The Gators are the number two seed in their region.
Florida clinched its NCAA berth after they claimed their 11th Southeastern Conference title with a 2-1 win over Texas A&M. Christen Westphal was named the tournament MVP after scoring the game winning goals in both the semi-finals and the finals.
The Broncos come into this match after winning the Mid-American Conference Tournament with a 2-0 win over Miami (Ohio) back on November 8th. This is the second MAC title for Western Michigan in the last three seasons. This is also the third time in program history that Western Michigan goes to the NCAA Tournament; they advanced to the second round in 2003 and 2013.
The Gators are led by junior Savannah Jordan who leads the team with 21 goals and 48 points this season. Jordan is second in the nation in goals scored and points and leads the SEC in those categories. She was also named the SEC Offensive Player of the Year.
This will be the first meeting between these two teams. Match time from Donald R. Dizney Stadium is set for 7p.m. Tune into ESPN 95.3/850 to hear Taylor Burke and Joel Sebastianelli's live call of the game.