The three finalists for the 2015 Heisman Trophy awarded on December 12 in New York City have been announced. They are Alabama's running back Derrick Henry, Clemson's quarterback Deshaun Watson, and Stanford running back Christian McCaffrey.
A look at the finalists: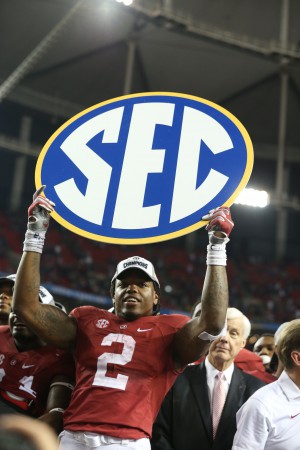 A 6-foot-3, 240 pound junior from Yulee, Florida, Henry carried the Tide to the SEC championship and is leading the nation this year with 1,986 rushing yards and 23 touchdowns on 339 carries.
Henry has been dreaming of winning the Heisman trophy since he was a little kid and now his dream could possibly be a reality. If Henry wins, he would be Alabama's second Heisman Trophy winner. The last one was in 2009 by Mark Ingram.
Henry could be the front runner for the Heisman due to his 189 yards rushing and a touchdown on 44 carries in the SEC title game.
---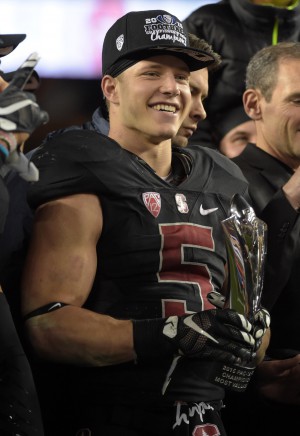 McCaffrey, the 6 foot, 200 pound sophomore from Castle Rock, Colorado broke Barry Sanders' NCAA record for all- purpose yards in a season with 3,496. He scored 13 touchdowns and caught two touchdown passes.
In Stanford's Pac-12 victory over Southern California in the championship game, McCaffrey had 461 all-purpose yards. On the season, he ran for 1, 847 yards with eight touchdowns.
If McCaffrey wins the Heisman, he will be Stanford's second, joining quarterback Jim Plunkett in 1970. The Cardinal has had Heisman runners-up before in running back Toby Gerhart (2009), and quarterback Andrew Luck (2010).
---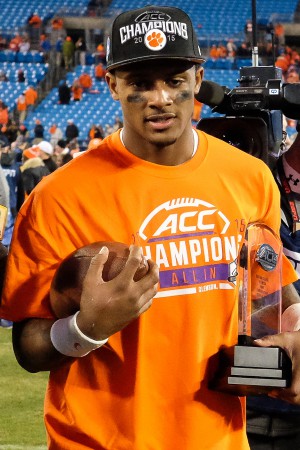 The 6 foot-2, 210 pound Watson, a sophomore from Gainesville, Georgia has put Clemson in the playoff and will try to bring the school its first national championship since 1981. Watson is the only player in the country who has surpassed 800 yards rushing (887) and 3, 500 yards passing (3, 512). He has also accounted for 41 touchdowns.
Watson amassed 420 total yards and accounted for five touchdowns in Clemson's Atlantic Coast Conference Championship Game win against North Carolina.  He would be Clemson's first Heisman winner if he wins the award.
Alabama's Derrick Henry and Stanford's Christian McCaffrey hope to win the Heisman Trophy for the running backs. The last time a running back won the Heisman was in 2009, when Alabama's Mark Ingram won the award. Clemson's Deshaun Watson hopes to win it all for the quarterbacks. For the last five years in a row, quarterbacks have won the Heisman Trophy.
---
This year Heisman Trophy voting could be very close between three very deserving candidates; the last three winners in Marcus Mariota, Jameis Winston, and Johnny Manziel–all won by fairly comfortable margins.
.