The highly anticipated rematch between Conor McGregor and Nate Diaz lived up to the hype. The match went the distance with a draw looking reasonable, but a decision was reached in favor of Conor McGregor. Immediately as the fight concluded, the rumor mill began about a possible third fight.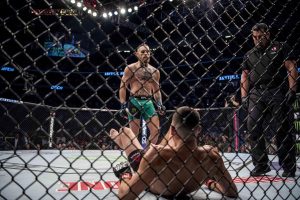 During the post match press conference McGregor even floated the idea about fighting Diaz again. He mentioned that the next fight will be on his terms.
Diaz was pretty bitter about losing saying that McGregor should've been deducted points for running around not wanting to fight. The dissatisfaction that Diaz has after this fight could be a good thing for a future third bout.
There are still many details to workout if a third match is to happen, especially with the weight change that McGregor wants.
UFC President Dana White weighed into the conversation, telling FS1 that we're definitely not doing this a third time around. Dana White goes on to say that McGregor needs to fight for his belt at 145 which means Diaz could be the odd man out.
The UFC fans will lobby hard for an epic trilogy match-up but at the end of the day it is Dana White's decision if this is going to be the next main event fight for both athletes.