The NFL owners approved the Oakland Raiders' move to Las Vegas by a 31-1 vote on Monday.  This will be the third time in franchise history the Raiders will have relocated.  In 1982, the Raiders moved to Los Angeles and then returned to Oakland in 1995.
The brightest spot in the world just got brighter. #TheRaidersAreComing pic.twitter.com/dSFV1LrQx3

— OAKLAND RAIDERS (@RAIDERS) March 29, 2017
Lame Duck
The team will play in a $1.9 billion dollar dome that will not be completed until the 2020 season.  In the meantime, their lease keeps the Raiders in their current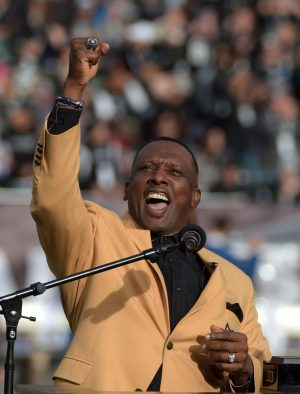 home, the Oakland- Alameda County Coliseum for their next two seasons.  Oakland will still have to look for a home for the 2019 season.  This leaves the Raiders with two "lame duck" seasons in Oakland.  If history is an indicator, playing with one foot out the door isn't always a good idea.  In 1995, the Cleveland Browns started their season 4-5 under Bill Belichick, after finishing the previous season 11-5.  During the season, owner Art Modell announced the team would be moving to Baltimore at the end of the year.  The Browns went 1-6 the rest of the season and fired Belichick.  In 1996, the Houston Oilers announced they would move to Tennessee, but not for another two years.  By their final game in Houston, only 15,131 fans were in attendance in the Astrodome.
One of the biggest worries about the move is whether or not fans will still support a lame duck team.  Former Raiders wide receiver and Hall of Famer Tim Brown has a unique perspective.  He started his career with the Raiders in Los Angeles and finished in Oakland.  Because of his experience, Brown is confident that loyal Raider fans will show up and even travel to Las Vegas.
History
History may be on the Raiders' side.  In 1980, former owner Al Davis announced his plans to move the team to Los Angeles.  The NFL rejected the move and a two-year court battle ensued.  During this time, the Raiders won the 1981 Super Bowl in the first of their last two seasons in Oakland and followed it with the 1983 Super Bowl title just two years later, in their second season in LA.  Current Raiders coach Jack Del Rio is no stranger to these moves.  As a native of the Oakland area, Del Rio can sympathize with the local fans and remembers reactions from his family and friends during the move in 1980.  Because he knows the emotions that accompany a relocation, he knows some fans will be angry.  However, he echos Brown in saying that he believes the die hard Raider fans will support the team regardless of location.