The Florida Gators have 20 NCAA Championship appearances in program history.  On Friday, Florida soccer faces South Alabama for the first round of the 2017 NCAA Championship Tournament.
This match is the first time these two programs will play each other.
https://twitter.com/GatorsSoccer/status/927652515977617409
Gator's Strength Going Into the Tournament
This season, the Gators are 14-5 overall and 7-3 in the SEC. The Gators have been in the NCAA tournament for 15 straight years.
The team scores on average 1.65 points per game, but the defense only allows 0.75 points from opponents.
Freshman Deanne Rose scored eight goals this season, which makes her the highest scoring player on the team. She averages 2.89 shots per game and has 1.06 points per game.
Rose also has experience which makes her unique: she played on Canada's 2016 Bronze medal Olympic Team.
Rose scored Canada's first goal and assisted the game-winning goal in the bronze match.
Lais Araujo is another international player the Gators have on the team.  She was captain of Brazil's 2016 FIFA U-20 World Cup team. Araujo scored the only goal for the Gators in the first round SEC tournament match against Auburn.
South Alabama's Going Into the Tournament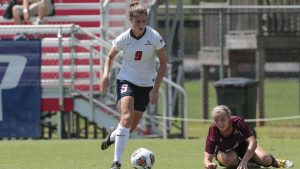 South Alabama won their Sunbelt Conference Championship game 5-0.
The Jaguars are 1-1 against SEC opponents in the postseason.  In the 2015 season, South Alabam beat LSU 4-0, but in the 2016 season, the Jaguars lost to Auburn 4-0.
In the last two years, South Alabam is 1-4 against top 25 opponents.
Against the Gators, the Jaguars will have to play tough defense. They must keep the players with international experience away from the ball, in order to keep the score of the match low.
Gator Head Coach Becky Burleigh explains why the international players are important to teams.
On offense, using Rio Hardy will help the Jaguars move past the Gators.
Hardy has 16 goals for the season making her tied for third in Division 1 for goals.
Hardy's success is due in part because she isn't afraid to take shots on the goal. Her highest streak for shots on the goal is 6 against Texas State.