Both No. 18 Tennessee and unranked South Carolina will look to avenge double-digit weekend losses in their Tuesday night matchup.
https://twitter.com/GamecockMBB/status/963432191115120640
The Vols lead the all-time series 43-27 and have taken 25 out of the last 34 meetings in Knoxville. But, the Gamecocks have come out victorious in three of the last five meetings and two of the last three contests in Thompson-Boling Arena.
What Happened Last Time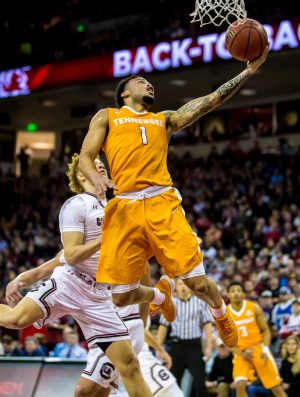 The Volunteers won the first contest between these two teams on Jan. 20. Sophomore guard Lamonte Turner led the way for the then-No. 21 Vols with 25 points in the 70-63 victory.
That win was the first of six straight for Tennessee and the beginning of a South Carolina skid where the Gamecocks have currently lost six of their last seven games, including five straight losses.
South Carolina shot 36.7 percent from the field, but 43.5 percent from beyond the arc compared to Tennessee's 57.5 percent from the field and 45.5 from three-point land.
But, the Vols were able to pull out a win with a strong inside presence, excellent free throw shooting and stifling defense that held the Gamecocks to two points over the game's final four minutes.
Sinking South Carolina
Losers of five straight, as previously mentioned, the Gamecocks are the closest they have been to .500 this late in a season in 3 years.  They finished 17-16 to close out the 2014-2015 season.
It's been a simple recipe for defeat: don't make shots and make it too easy for the other team to do so. During its current losing streak, South Carolina is shooting just 34.4 percent from the field including 25.5 percent from three-point range while allowing an opposing field goal percentage of 48.3 percent and 37.5 percent from beyond the arc.
Why is South Carolina men's basketball struggling so much this season? https://t.co/fAwlFECPAV

— Garnet & Black Attack (@GABAttack) February 13, 2018
In its most recent loss, South Carolina shot close to 28 percent from the field and just over 15 percent from three while allowing Florida to shoot 46 and 30 percent.
"We're a hurt team right now," South Carolina coach Frank Martin said after the loss to Florida. "We're a team lacking spirit."
Resurgent Rocky Top
Tennessee also shot 28 percent from the field in its double-digit loss to Alabama on Saturday that halted a six-game winning streak for the Vols.
This is the first time the Vols have been ranked in the AP Top 25 in seven years.
It's also the closest they've been to first place in the SEC standings this late in a season since tying for second place with Vanderbilt and Florida in the 2011-2012 season.
The team is led by a pair of forwards in sophomore Grant Williams and junior Admiral Schofield. The two lead the team in points (Williams: 15.9, Schofield: 12.3) and rebounding (Williams: 6, Schofield: 6.3)
RENAISSANCE MANhttps://t.co/MQXvMH8sqm

— Tennessee Basketball (@Vol_Hoops) February 13, 2018
Head coach Rick Barnes said he hopes his team can continue to improve down the stretch and into postseason play.
"Everybody is capable in this league to win at any time, and we know that," Barnes said. "If not, we better know it by now. We certainly should know it after Saturday."
Where to Watch and What's At Stake
A win for South Carolina would end their losing streak while a win for Tennessee would be its sixth straight at home and keep them in the hunt for an SEC regular season title.
The game can be seen on ESPNU or the WatchESPN app at 9 p.m. ET.