The Miami Marlins lost to the Boston Red Sox 7-3 in their first meeting of the season on Monday.
https://twitter.com/RedSox/status/980993157943803905
Boston might have lost Opening Day, but since then, they are defeating their opponent every game. Former Gator and Red Sox starting pitcher Brian Johnson gave Boston their fifth-solid start in five games, which helped them close out Miami at Marlins Park. During the game, Johnson allowed only one run in six innings.
https://twitter.com/RedSox/status/981011788014563328
Red Sox Offense Pulled the Team
This game was different than Boston's previous games this season. Boston's offense had a burst of energy. This outburst was led by former Marlin Hanley Ramirez who slammed a two-run homer and Mookie Betts had a homer and two hits as well.
Hitting that ball to the point of no return! pic.twitter.com/j1bEQ475IK

— Red Sox (@RedSox) April 3, 2018
Ramirez promised a successful season including 30 homers and 30 stolen bases according to reports. So far this season, he's working towards that goal.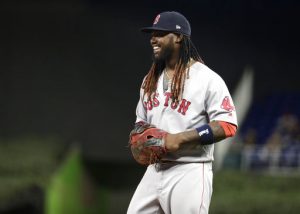 Also giving a boost to the Red Sox, Rafael Devers and Xander Bogaerts each had two hits during the game.
Ramirez was not the only Red Sox returning to Miami, Boston rookie manager Alex Cora played for the Miami Hurricanes. After Boston's win, Cora said that his team had some good at bats.
Miami Marlins manager Don Mattingly said that for the Marlins, Boston's offense was unique from other teams they have seen this season.
Beyond the Game
Before Monday's game, Ramirez made a promise to a young fan. He kept his promise and signed the jersey after the game.
https://twitter.com/HanleyRamirez/status/981033845544828928
Up Next
The Marlins will host the Red Sox again on Tuesday at Marlins Park. Left-handed pitcher Chris Sale is set to start for Boston, and right-handed pitcher Jose Urena is scheduled to pitch for Miami.