The number two overall NFL Draft pick, Saquon Barkley, got his first glimpse of action with the New York Giants this weekend.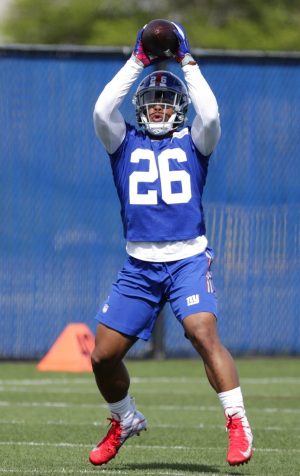 Barkley certainly impressed many during the first few days of the Giants rookie mini camp at the Quest Diagnostics Training Center. The running back caught pass after pass, creating high expectations for this upcoming season.
Barkley Predictions
Saquon Barkley is expected to be a nightmare to guard due to his unique performances, where he bursts and changes direction. He will be up against numerous high-caliber NFL stars, so he must continue to stand out. It may have just been the rookie minicamp, but it is definitely a reason for the Giants to be excited.
Playing as a running back in the NFL, there is constant success expected. It is clear that everyone has their own expectations on what Barkley will achieve throughout his first season with the Giants. However, to Barkley it doesn't matter what anyone expects.
To him, all that matters are his own expectations.
Barkley will certainly be tested, but the Giants are confident that he can handle the amount of pressure there is within the NFL. General manager, Dave Gettleman, is already putting Barkley up to the Gold Jacket test.
The Gold Jacket
The Gold Jacket test is of those players worthy of being selected No. 2, which Barkley was. He must earn the Gold Jacket now by proving himself to be one of the best players. The last time the Giants picked in that spot was back in 1981. They welcomed the best player in franchise history, Lawrence Taylor.
Now, it is a waiting game to see what Saquon Barkley can accomplish. Here are his thoughts on working for the Gold Jacket:
https://twitter.com/Giants/status/995302585170096129
Continued Practice
There's an old saying that practice makes perfect. In order for Barkley to grow and succeed he must practice prior, during, and after football season.
With rookie camp coming to an end, Barkley will still get to test his skills throughout offseason this summer. He will attend various other mini camps, along with training camp. Here, he will work alongside his other teammates, rookies and non-rookies.