Catching the injury bug is something the Jacksonville Jaguars (3-2) are getting early.
According to Head Coach Doug Marrone, Jags running back Corey Grant suffered an injury his left foot during the Jaguars' 30-14 loss. He will most likely be out for the season.
Another possible problem is Jags tight end Austin Seferian-Jenkins. He's on injured reserve due to a core muscle he hurt during the preseason and it was re-injured during last Sunday's game. He is set to have surgery but will most likely return before the end of the season. The earliest Seferian-Jenkins will be available to return to the active roster will be Week 14 against the Tennessee Titans.
"People need to start stepping up" said Marrone. "It's part of the game. Attrition plays an important role in the NFL and I've said from the beginning, the best ability is availability. We've got some guys that we're working on getting back. Hopefully they'll come back quickly and be ready to play. In the meantime, guys are going to have to step up. Not only at their position, but everywhere around them."
Key Injuries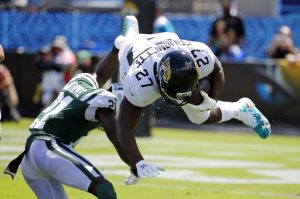 Other key players that are suffering injuries include running backs Leonard Fournette and T.J. Yeldon, wide receiver Marquies Lee, left tackles Cam Robinson and Josh Wells, center Brandon Linder, and right tackle Jeremy Parnell.
Fournette, the star running back has played in two games this season after suffering a hamstring injury in the season-opener and was out for two weeks after that till he came back in week 4 and made the injury worse and came out after one half.
Lee, and Robinson are joining Grant and Seferian-Jenkins on the injured reserve list and are both out for the season after both suffering knee injuries.
Starting left tackle Josh Wells suffered a groin injury also against the Chiefs but it is uncertain if he will play against Dallas this Sunday.
As for Yeldon, Parnell, and Linder, all three have been dealing with injuries since the start of the season but it hasn't sidelined them yet.
Reinforcements coming in
After being hit deeply in their running back depth, the Jaguars are looking towards some free agents that they may be able to sign. Kansas City all-time leading rusher Jamaal Charles signed a one year deal with the Jaguars on Tuesday.
Charles was released from the Denver Broncos last season after sitting out the last two games of the season as a healthy inactive. He only rushed 69 times for 296 yards and one touchdown throughout the season.
Another running back that may come to Jacksonville is Charles's former teammate Charcandrick West. West will workout for the team sometime Tuesday or Wednesday. As a backup to Kareem Hunt, West rushed 18 times for 72 yards and two touchdowns and also caught for 150 yard and two more touchdowns.
The Jaguars are signing RB Jamaal Charles, a source tells @AdamSchefter. pic.twitter.com/BxOXZ3g8pR

— SportsCenter (@SportsCenter) October 9, 2018