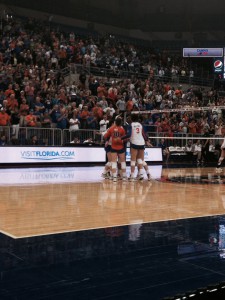 The Orange and Blue used a balanced offensive attack and stellar defense Friday as the eighth ranked Florida volleyball team blanked Missouri (25-17, 25-19, 25-13) in front of the Gator faithful at the Stephen C. O'Connell Center to improve to 15-3 on the season and complete the first portion of the SEC slate an undefeated 9-0.
Rhamat Alhassan (14), Gabby Mallette (11) and Živa Recek (11) notched double-digit kills, senior Holly Pole led the Florida back row with 13 digs, while Florida's service reception was yet again on point with no reception errors for the fourth time in conference play.
Alhassan added a service ace and two assists, along with a .591 hitting percentage to the match. Junior Mackenzie Dagostino added 35 kills and eight digs, while senior Taylor Unroe added eight digs of her own.
With only six lead changes throughout the match (five of them coming in the second set) the Gators took control early and often; including a stretch of at least five consecutive points in all three sets.
Florida out-blocked Mizzou, 5-2, and limited the Tigers to a .168 hitting efficiency on the match. Missouri became the seventh sweep in SEC play for Florida and UF's 12th opponent this season to hit under .197, including eight of nine SEC opponents thus far.
But Gator head coach Mary Wise was quick to say that it was an all-around team effort.
"This was a match where, as good as our back row play continues to be, our offense matched it," Wise said.
UF improved to 4-2 all-time against Missouri and will now set its sights on its second meeting with Mississippi State (6-18, 1-8 SEC) Sunday with first serve slated for 1:30 p.m. from the O'Dome Sunday. You can catch the match on ESPN 850 WRUF.
For postgame comments from coach Wise and Mackenzie Dagostino, click below:
Wise recaps the Missouri match
Wise on the play of Holly Pole
Wise on the all-around team effort of the team
Dagostino recaps the Missouri match
Dagostino talks about the team's growth on defense