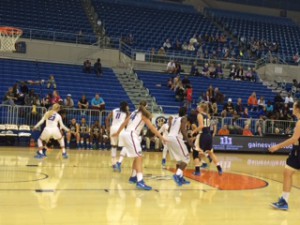 A slow start was easy to overcome for the Gator women's basketball team (3-1) as it defeats the Charleston Southern Buccaneers (2-2) 92-64 Tuesday in Gainesville.  After six minutes in the first half, Florida had only accumulated seven points and was shooting only 14% from the field.
Despite the slow start for the team, it was the opposite of a slow start for UF freshman forward Haley Lorenzen who scored five of the team's first seven points. She says she credits her career high 17 points to her teammates.
"To be honest, I was honored to have an opportunity, but I could not have done it without my teammates. Cassie Peoples told me if I ran the floor she would find me.  It's not about me making 17 points, it's about my teammates finding me. I am just trying to make my open looks."
It wasn't until 5:44 left in the first half that the Gators begin to play like the team head coach Amanda Butler recognized. They stretched their 23-17 lead to a 22-point lead going into the half with a 43-21 score. The team's defensive efforts led to 25 points off turnovers in the first half alone.
"We want to be challenged in these early games and continue to find out the things we need to work on. I thought we played a really great second half of the first half, and that's when we were able to separate ourselves in a meaningful way," said Butler.
Florida also had a big game from the non-starters. The bench scored 51 of the team's 92 total points.
"We don't go here's our staring five and here's our bench. Everybody at some point is going to be on the bench and just about everyone has been in the starting lineup and we just expect that consistency, we expect that second and third wave to give us energy, to elevate, and to build off of what the five that were in there before them did," said Butler.
The team kept the spark going in the second half with 10 quick points. They shot 55% compared to the 34% they shot in the first half. Florida also only missed three free throws the entire game shooting 90% from the stripe.
Next up for Florida is a match up against Georgetown Friday night in Washington D.C., and Butler says that her team is prepared.
"There were a lot of positives, but a lot of stuff we still have to work on. We have things we have to quickly turnaround and work on because we have a great Big East opponent on Friday. We had some really nice individual performances that are indications of growth, and that is what we are looking for."
For audio of the story click the links below: