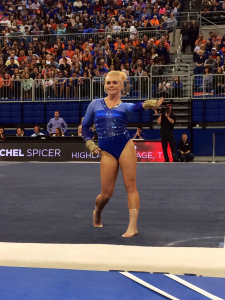 Florida gymnastics bounced back from last week's loss to defeat Georgia 197.6 to 196.95 Friday in the O'Connell Center.  The Gators were leading after each rotation, won three events, and won the All-Around title.
Kytra Hunter was the overall leader for vault with a 9.975, Alex McMurtry tied with Georgia's Kiera Brown for the lead in bars with a 9.925, Kennedy Baker and Kytra Hunter tied on floor with a 9.975 each, and Kytra Hunter won the All-Around title.
This performance from the Gators was a huge turnaround from last week, with almost reverse scores.
"We are a power team, and the past couple meets we haven't really hit our numbers and hit our scores, but tonight we proved just how strong we can be," freshman Alex McMurtry says of the Gator improvement.
The night didn't go without its mistakes, with Claire Boyce taking an uncharacteristic fall on the beam and Rachel Spicer stepping out of bounds on her last pass during her floor routine.
"She [Claire] is always exceptional at beam. She just missed her hands and it was very scary," head coach Rhonda Faehn said of Boyce's fall.
"This was her [Rachel] first time back since last year, so I'm not concerned about her stepping out of bounds; what I was looking for was that she had the energy and the adrenaline," Faehn added.
Florida had some almost perfect routines too when both Kennedy Baker and Kytra Hunter scored a 10 from one of their judges on their floor routines. The back to back 10's, even though they didn't lead to perfect 10's, are a confidence builder when looking forward on the season.
"I told Kennedy I wanted to see her personality…and to be able to see her light up the arena and the fans feed off of that, she's only going to get better because she witnessed it now," Faehn says.
Next up, the Gators will travel to Arkansas to take on the Razorbacks. Coverage of this meet will air on SEC Network, February 9th.
Listen here: