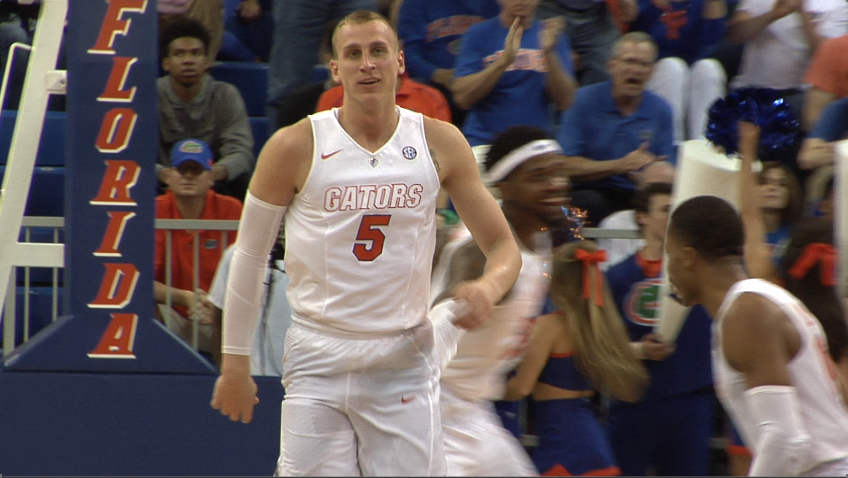 The Florida men's basketball team edges Texas A&M 66-62 in its final regular season home game of the year on Tuesday night.
It's a win, but it wasn't always pretty.
With 1:58 to play, the Gators held a comfortable 58-45 lead.
Then the Aggies started playing "Hack-A-Gator," continually fouling Florida on the in-bounds play for the remainder of the game.
Like it has all season, Florida struggled to hit free throws down the stretch, converting only 8-0f-18 from the charity stripe inside the last two minutes of the game.
Freshman point guard Chris Chiozza showed the most struggle, hitting only 4-of-12 free throw attempts in the game, missing five straight at one point in the game's waning minutes.
"The second half in particular has been a real microcosm of our team mentally," said Florida head coach Billy Donovan. "We're not a mentally strong team… at the end of the game, you can't just take two point guards off the floor from a ball handling stand point so at some point, those guys got to make free throws."
The Gators struggled collectively at the line, going 20-for-38 (52.6%) on the night. The team has shot just 63% from the line in conference play heading into its final game of the season on Saturday.
"It's part of the game, it's part of their growth, it's part of their development, it's part of being tough minded and developing that," said Donovan. "Me rescuing them and taking them off the floor is not helping them in some ways."
The Gators were able to generate a balanced offensive attack with Dorian Finney-Smith (12 points), Eli Carter (11 points), Devin Robinson (10 points), and Alex Murphy (9 points).
Perhaps more importantly, Florida was able to hold Texas A&M leading scorer Daniel House to 0 points (0-for 10 shooting). It's the first time House has failed to record a point in his three-year career.
The Aggies were led by Alex Caruso, who dropped 20 points.
"This was a game where we really, I felt like, did a terrific job sustaining defensive intensity the whole entire time," said Donovan.
Tuesday also marked the final home games for seniors Jacob Kurtz and Lexx Edwards.
Kurtz had two points and two assists in only 10 minutes. He had to leave the game after getting poked in the eye in the first half.
Up next, the Gators (15-15, 8-9) have an opportunity to end their regular season with a bang. They travel to Rupp Arena to take on the undefeated Kentucky Wildcats (30-0, 17-0) on Saturday.
To listen to audio from the story, click below:
Donovan on the team's lack of mental toughness
Donovan says he was proud of their defensive intensity
Donovan says the team needs to fight through free throw struggles