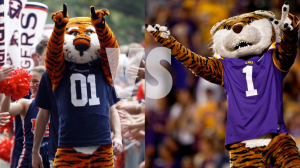 The No. 18 Auburn Tigers are headed to Baton Rouge this weekend where they will face No. 13 LSU in Tiger Stadium in an SEC West football match up.
The SEC rivalry between Auburn and LSU is filled with memorable games and moments that have left fans stunned. For example, in 1988 – LSU got an upset victory at home over the Tigers, which prompted a celebration that was loud enough to register on a nearby seismograph.
Tiger Stadium aside, Auburn enters this game with a laundry list of disadvantages to begin with. Last week, the Tigers narrowly avoided a loss at home against Jacksonville State, prompting questions about their ranking. In the SEC, allowing a loss outside of the conference is a cardinal sin and the Tigers will need to start strong on Saturday if they hope to bounce back.
After the overtime victory over JSU, some of Auburn's star players used social media as a way to express their disappointment. Tigers' wideout Ricardo Louis referred to the JSU game as a reminder that no win is guaranteed.
Sometimes you need a wake up call

— Ricardo Louis (@GuttaManRick) September 13, 2015
Looking towards the future, Auburn head coach Gus Malzahn knows that LSU will pose a challenge.
"It's been awhile since we've won there," says Malzahn. "They play extremely well at home."
With a maximum capacity of over 100,000 fans, last season Tiger Stadium was deemed the most difficult road environment in an ESPN Coaches' poll.
LSU's upper hand is not limited to their home field advantage, however. The Tigers run a well balanced, disciplined offense that boasts a talented running back in Leonard Fournette. In one game, a 21-19 victory over No. 25 Mississippi State, Fournette already has three touchdowns with 159 rushing yards on 28 carries.
When asked about his offensive approach, LSU head coach Les Miles said that he's not opposed to making adjustments.
"It can be a spread attack and certainly we want to do the things that are best for our players' talents." Miles explained.
Under Miles' leadership, LSU is virtually unbeatable in August and September. In those opening months, they are 40-4 (.909) since 2005 which is second only to Alabama. With these factors in mind, the uneasy Auburn Tigers will have their hands full when Saturday's game kicks off at 3:30 from Death Valley.
Audio from this story can be found below.
Malzahn says this weekend will be tough.