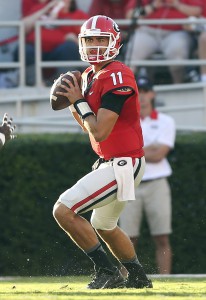 Georgia has been riding high so far this season with a top ten national ranking and an unbeaten record.   The most recent win came at home, a 52-20 win against South Carolina, where quarterback Greyson Lambert set NCAA, SEC and Georgia records for best completion percentage in a game at 96.0%.
The seventh ranked Georgia Bulldogs will host the Southern University Jaguars this Saturday for the first match up ever between the two teams.
Georgia and Southern have excellent offenses with the Bulldogs going over 50 points twice this season while Southern hit its second straight 50 point mark demolishing Jackson State (50-31) last week.
The Jaguars are led on offense by quarterback Austin Howard and wide receiver Willie Quinn who hauled in a 43-yard pass from Howard last week.
Georgia's head coach Mark Richt feels his team is ready to play.
We've been working hard, really had a good practice yesterday, I thought the focus was great" he said.
Kickoff of the game is set for noon at Sanford Stadium in Athens.
Click below to hear sound from coach Mark Richt: