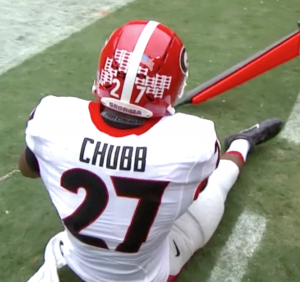 The Georgia Bulldogs (5-2) began the season as favorites to come out on top of the SEC East standings and even as a potential playoff team, but after three straight poor performances the team heads into its BYE week struggling. Their last time out, the Bulldogs were unconvincing victors as they hung on for a 9 to 6 home win against Missouri.
To add to their troubles, Georgia will also be without star running back Nick Chubb for the rest of the season. Chubb was averaging 8.1 yards per carry, and had scored eight total touchdowns. Georgia head coach Mark Richt is "optimistic" that Chubb will be able to return next year.
With senior linebacker Jordan Jenkins and sophomore wide receiver Isaiah McKenzie also both nursing injuries, the Bulldogs look to take full advantage of the BYE week to be closer to full strength when they take on rival Florida on Halloween.
Richt has already begun studying up on the Gators, and the quickness Florida plays with is already on his mind.
"The first characteristic you say (when it comes to Florida) is team speed" said Richt. "They're very loaded in that area, in offense, defense, and special teams."
The Georgia defense has been holding opposing teams to 187 passing yards per game, and will be looking to work on neutralizing some of Florida's speedy receivers in Demarcus Robinson, Brandon Powell and Antonio Callaway.
Both Florida and Georgia have BYE weeks this week headed into their rivalry match up.
The Bulldogs and the Gators will face off on Saturday, October 31 at 3:30 PM from EverBank Field in Jacksonville, Florida.